A quick Visit to the Worcester MA International Auto Show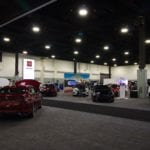 I was minding my own business on the "social medias" when I got a message from Allen Harris of AggressiveDesign.net… He suggested we meet up at the Worcester International Auto Show. I was not initially planning on going but I had nothing better planned. I thought a little networking with other "Car Guys" is never a bad idea. So on Saturday, I got in the car to meet up with Mr. Harris at Noon.
Worcester International Auto Show
The Auto Show was held in the DCU Center in Worcester. It's not exactly a large event but if you are car shopping it's another place to go look at a variety of cars. What's nice is that you can do this in a relaxed, and more importantly, warm environment in January.
This event is much more "Subdued" than the Boston event we hit last week. Many of the same makes were there however there were just a few more offerings from BMW as well as Cadillac that were supplied by a local dealership.
The Cars We liked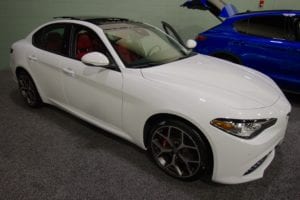 Tucked in the Corner was an Alpha Romeo Giulia. The first time I saw this Car in Boston it was "unapproachable." SO – it was nice to be able to get up close to it and more importantly sit inside. I gotta tell you the "fit and finish" was on par to typical Italian form but I found it to be a very tight fit for me. I wagered that Allen's Daughter would not be able to fit in the back. It turns out – I was correct. Quite honestly if you are going to make Sedan with 4 doors at a minimum, a young teenager should be able to fit in the back seat. With the front seat in the all the way back position. This was not possible in this instance.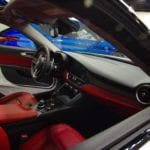 Another thing that Allen and I both remarked on was how plain the interior was. Controls are all on the steering wheel which made the rest of the dashboard rather plain and in a way… almost boring. But I suppose if your bucket list is to own any type of Italian car you could do this on the cheep for just over $40k. So – it's got that going for it.
A Maserati for Allen?
I snagged a picture of Allen considering his next Car wish? He and his daughter sat in the Maserati Ghibli. the price starts at $74k and for that, you can get a 345 HP Twin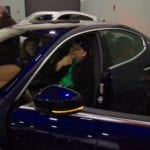 Turbo V6. Throw a bit more money at Maserati and they will boost the HP up to 404. Throw some more money at them since you live in New England. You know, because you may want to get the optional All-wheel drive. Or not… Its a beautiful car don't get me wrong. Honestly, I think the interior just lacks the aggressive styling that the exterior has. I also felt that for the money there should be less plastic. But I would still take one in a heartbeat though!
The savior of the show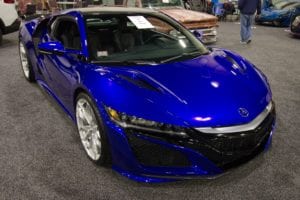 Allen remarked on facebook later that the Worcester Auto Show was saved by Rich Moscoffian of Landric Customs. And he was right. Rich had asked a bunch of his customers and friends to display some of their cars. Featured in the front was a beautiful Blue Acura NSX that had very subtle custom work done with Wheels and Gloss applied to some of the carbon fiber work. I loved this Car and found myself getting lost in the Blue metallic that was applied to this Car.
Rich also had a customers vehicle that had magic paint that shimmered in different colors from many angles. 2 perfect Ferraris including a 2+2 vehicle stunning in black paint and A custom bagged Chevrolet Truck with an LS motor crammed into it. I spoke to Rich for just a little bit who had an easy laugh and is very passionate about his work and is eager to proudly show you his work that By the way is stunning. He showed me a few pictures from his website and I gotta tell you, he had some great PlastiDipped rolling works of art and many other examples of his work that looked fantastic. If you are in the Fitchburg area and need some custom work done. Hit Rich up at his website or his facebook page.
Time to Go Home
Allen went off to do some recording for the videos he does on YouTube. I looked around a bit more and spoke to the Owner of the NSX for a bit. I took a last look at some of the Cars and then made the trek home. While I did feel I didn't see that much more at the show than I did in Boston, it was nice connecting with some new friends in the car community.
And that my friends, is exactly what I love about Car Shows!
Check out some pictures I snapped at the show below: