We hit up Mark's Northeast Motorsport Expo!
At the beginning of the year, I had posted the Dates for the Northeast Motorsports Expo in Springfield Massachusetts at the "Big E" fairgrounds. I had heard of the event but never once attended it.
My Friend Jay who has always been my go-to "car guy" to talk cars with had been many times. To the point of towing his own Race cars and even other race cars down to be exhibited. He asked if maybe it was a good idea if we both went and then I would have something to write about for the website.
A Drive to Springfield
Jay met me at NEAS HQ…. (AKA My House.) We grabbed some sodas, my camera, and jumped into my Car. We then motored down Route 13 to Worcester and then jumped onto 90 West to Springfield.
Found a spot nice and close to the main entrance and paid our entrance fee to walk into a tableau mixture of Race cars, and Classic Cars.
I like Trucks too…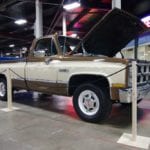 We decided to run the outer perimeter and feather our way back and forth. We happened upon this early 80's? Sierra Classic GMC pickup complete with an unmolested Big Block. There's just something about ole' pick-up trucks with the single Cab that waxes nostalgic with me. 2 tone browns that were the rage back then and sitting almost majestically by itself. It looked as if it was waiting for its windshield washer fluid to be topped off and then taken off to do some real work.
Vendors, and Tracks, and Clubs, Oh My!
Jay was a little bit sad that, although there were a few tracks there representing, there were not as many as there used to be.
We had a few theories. Some have indeed closed down but others are now owned by the same folks so they just picked one to be feature represented? Meh, it's a working theory and perhaps some of you may have some further insights.
Gear Head Mafia was represented from the Club perspective. And they were handing out information for their upcoming shows. (That we already have on our calendar BTW.)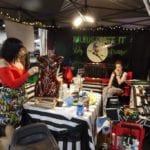 But let me tell you some cool displays were put on by a few and one to look out for was "Killustrate It." I wanted to talk to Kristin Haddad but I did not have the heart to interrupt the artwork she was creating on-site. She was laying out some pinstripes freehand with absolute precision. Based on her website, I'm not exactly sure there is any signage, pinstripe, or even gold leaf job, she is not able to tackle, And she looks to be able to do it well… I took a picture of her working and then grabbed a card to look her up and you should too if you need that type of work.
Optimus Needs a Doctor!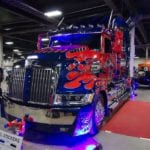 The Optimus prime truck was set up in the middle all lit up gorgeous like. This heavily modified Western Star is flashed up with a stunning paint job and aerodynamics. Massive triple stacks on each side just make this thing a beast and force you to wonder: "How the hell did they get this thing in here?"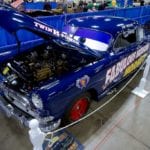 A little bit away kind of set up unobtrusively was a "Fabulous Hudson Hornet" The Number was wrong as I think Doc had the #51 painted on him but otherwise it looked just like him. Hudson Hornets made a spectacular Run on the Nascar Circuit in the early '50s because of the High Torque motor and their lower center of gravity than any other car on the track. While they did not have the most powerful motor out there, they did handle the curves so much better because of the lower CG that these cars came out of the factory with. Plus… They do look Fabulous…
Talking Shop With Nikki Ouellette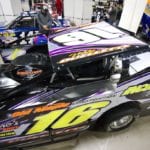 Jay was drawn to a Dirt modified Car driven by Nikki Ouellette who asked if we had any questions. Jay has driven both Stock cars and raced motorcycles. He understands the ins and outs of most racing concepts. But Jay admitted he did not understand Dirt racing.
Nikki was more than happy to answer any question Jay threw at her and let me tell you I have never seen a better spokesperson for racing. She really knew her stuff with NO BS thrown in. And she was genuine in her love of the sport which is rare to find in most men let alone any woman. Jay came away with a new admiration and understanding of the Dirt Track and we said we definitely need to go watch her race at some point. She's considering moving to upstate New York where there are a few more circuits for her to be in than her current location. We Wish Nikki Good luck in this upcoming season!
Cars and Jeeps By Wilson & Steely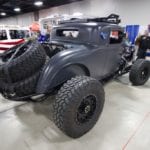 Wilson & Steely Coachworks had quite a few machines on hand showing off their amazing work. They are located in Athol Massachusetts. They handle custom fabrication and complete builds from chassis redesign to high-performance engine modifications.
I gotta tell you. Their work is amazing.
I'm starting to get a little miffed because a lot of the car shows on TV that gets work featured are places from California and the south. I think we need to get some of our northern brethren featured.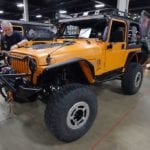 I bought my son a 2001 Jeep Wrangler for him to cart himself and his sister to School in. Thus I was drawn immediately to a 2002 wrangler that was painted in a hardened coat of Orange. Many modifications adorned this not the least of which was a stroked HO inline 6 Cylinder to be a 4.6-liter motor that the owner boasts will give any LS mounted in a Jeep a run for its money.
And make no mistake, this is not a "Show Vehicle." She had Dirt and grit to make you know that she' gone places and come back looking good to share those tall tales and make you want your own Jeep. I showed a picture of her to my Son when I got home and his reaction was "I Want!!!"
I checked out their website there is not only a picture of this fabulous Jeep but there is a split bumper Camaro that I need to see! It made my pants feel funny… Go check them out!
Reflections
The show was not a disappointment by any means. But that being said Jay and I kind of both were saddened that there were not more vendors than there had been in the past. And additionally some of the Track Circuits. But that being said what was represented? Was fantastic and thus made the venue most definitely worthwhile.
Check out some of the other stuff we saw in the below Gallery!