2018 New England International Auto Show
There were many surprises for me at the 2018 New England International Auto Show this year. A few missing Exhibitors for one, and for me, a new look at Hyundai, and a few other Manufacturers, and some confirmations on a few of my favorites. More on all of this, if you keep reading.
Confession Time
I have never attended a Car Show like this. My attendance of these types of events have usually been accomplished from the comfort of my couch in my parent's living room as a child, and/or in my leather recliner as an adult.
It's certainly not that I never wanted to attend it's just as a child it was a lot of money and later as I was starting a family, it was a lot of money and time. I wanted to make sure my kids would appreciate it and be at a certain behavioral level before I dragged them to an event like this.
So – Yesterday we anxiously watched the weather as a rain front left and a flash freeze rolled in and I went outside at 10:30 to confirm that the roads were dry and safe in the freezing temperatures, for the 1 hour and 30-minute drive to Boston from my home. I had no real plan, in only that I wanted to try and write about this experience for any of you interested in reading this. And I was really hoping to see the new offerings from all the major manufacturers. In that realm, the show did not disappoint.
Good Samaritan
I feel it important to share a very quick story about a good anonymous Samaritan. As we were just about to cross the street from where we parked towards the main entrance, A gentlemen with a family looking rather harried, started looking at my family as they were appearing to head back to the parking lot. He counted the 5 heads in my family and said: "Look 5 in the family here's 5 Tickets to the car show Merry Christmas."
A sat in the blowing cold wind for a few seconds as I looked at 5 admission tickets to the Car Show just handed to me for free… Whoever you are sir – if you read this: my family and I thank you so much! We are very grateful for your generosity and I sincerely hope that if you were forced to leave for any kind of Emergency or family issue, that all turned out well…
Entering the Show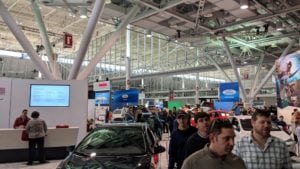 After a bit of confusion as to how to actually enter the show we got in and just sat in awe of the sheer size and volume of the show and for that matter, the number of people there. It's loud with the buzzing of talk of new vehicles and features with a cacophony of mixed music from the interiors of multiple cars. I grabbed a quick picture while my mouth was still open.
After a quick visit to the little boys and girls rooms to purge our systems after the hour and a half drive, we decided to look around at the show and most importantly, look at a bunch of cars and trucks.
The Vehicles.
Now, I realize it has taken over 526 words for me to get to this point and actually start describing what I saw for cars and trucks located at the show. There are a few manufacturers I did not give as much attention as I would have liked to, and sadly that was probably because I was with Family who had their own agendas that were competing with the different agendas my wife and I each had. So If I do not give as much detail as you are hoping I apologize.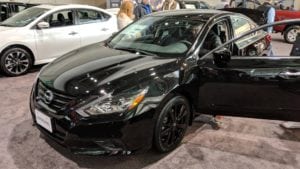 We started in the Nissan Arena and looked at the Sentra, the Altima and the Maxima. I sat inside the 2018 Altima Midnight Edition. Don't get me wrong I like Nissan. I have owned 2 of them. In my life. A 1993 Nissan Sentra SE (With no "R" and yes I'm still bitter about the lack of the "R.") and a 2000 Nissan Maxima SE with a 3 liter V6 and a 5 Speed. Both Fun cars but the newer Nissans just do not "Move me" as they once did.
The Midnight edition features all the same features as a standard SR with edition of Blacked out wheels, a slightly bigger spoiler, and midnight badging, but all in all if you are a "Car Show" guy or gal that follows the normal Car shows we cover you would certainly be disappointed with the Xtronic CVT (Continuously Variable Transmission) while great for fuel economy, they are boring to drive. Thus, you would probably opt to hit the manual mode and use the paddle shifters on the steering column.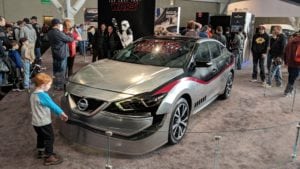 I sat in the very roomy accommodations in the back of a Nissan Maxima, and while the Car looks exquisite with its lines and no longer has the "jelly bean" look it once adopted, it still feels very sterile and not as exciting as the word "Maxima" should inspire. However, that being said the Nissan paddock had a specially customized Maxima Decked out for the Star Wars character Captain Phasma. A special front fascia, as well as some custom wheels and paint job, adorned the Star Wars themed vehicle and visitors could take pictures with a Storm Trooper manikin.
The GT-R sat enclosed in a steel fence with on-lookers only able to lightly touch it surfaces with some stretching. No major changes for the GT-R with exception to the introduction of the "Pure Packages" which make the model slightly more affordable for the GT-R enthusiast who do not own one yet. Differences in exhaust and sound systems mark the major differences as well as interior color choices.
The Infinity's share the same basic powertrains as the Nissans with some major tweaks to power plants. While superficially they look not too different while squinting, I have to say the Sharp red on the Q60S 400 Edition with the special Carbon Fiber accents is eye-catching. Add to that, the 400 HP Twin turbo V6 is an adrenaline pumper I am sure. However, some may be dissuaded by that almost $60k price tag attached to it.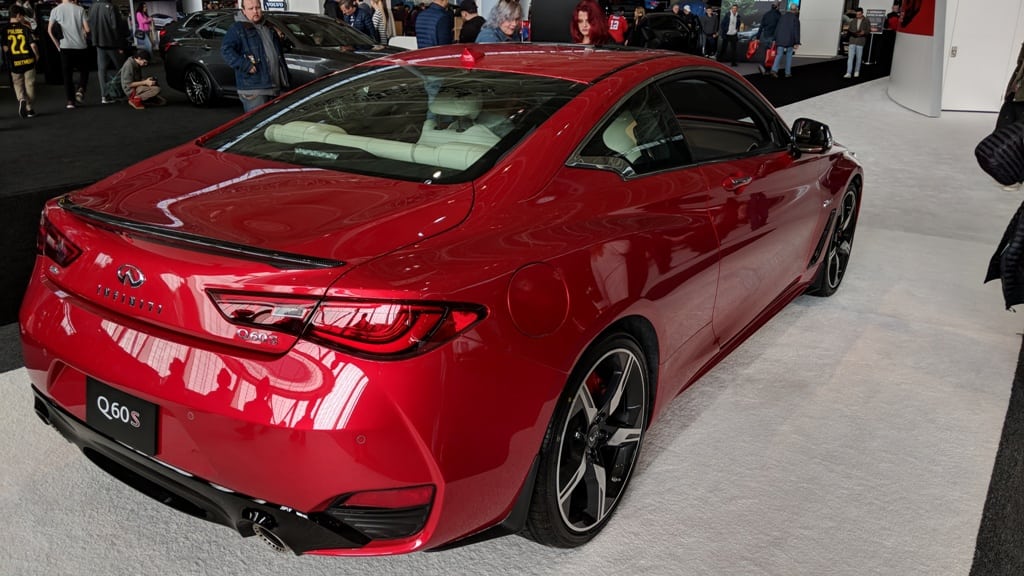 In recent years my Daily driver has been a Honda. If you are in the mood to get a slightly "Up moded" Honda, in general, you turn to Acura. There, unfortunately, was no NSX on display, but I gotta say some of the machines on display were quite nice if you're an Acura gal and/or guy.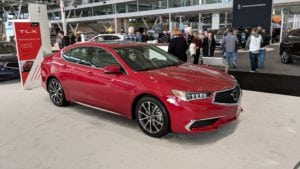 My wife was really quite taken with the lines and features of the TLX that can be had with either a 2.4 liter V-Tech or a 3.5 liter V6. Sitting in the interior finds you molded in quite comfortably with all the bells and whistles you could wish for like: heated leather seats, and exquisite sound system in the A-Tech models.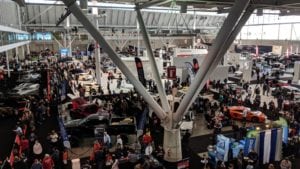 We took a break to get the kids a quick bite to eat. Going upstairs to the food court we were able to overlook the entire venue. It's quite a sight to behold.
When we returned My Son wanted to take a look at one of the exhibits dedicated to electric bicycles. you could sign up for a test ride on a GeoOrbital 700c powered Bicycle and on display were many different custom built bikes featuring this wheel that can be added to any bicycle and propel you for 50 miles at 20 MPH. Also on display were Emotion (Easy Motion) powered bikes as well.
After that, it was very hard to resist not looking at our first Exotic of the day. The 2018 Audi R8 powered by a 540 HP V10 is no disappointment in my book. And I'll be honest my 13-year-old middle daughter took a picture with her Phone and snap-chatted her story of the day with the caption of: "Life Goals." That kinda made me a little giddy. Is that a "Parenting you are doing it right moment?" Meh, I hope so.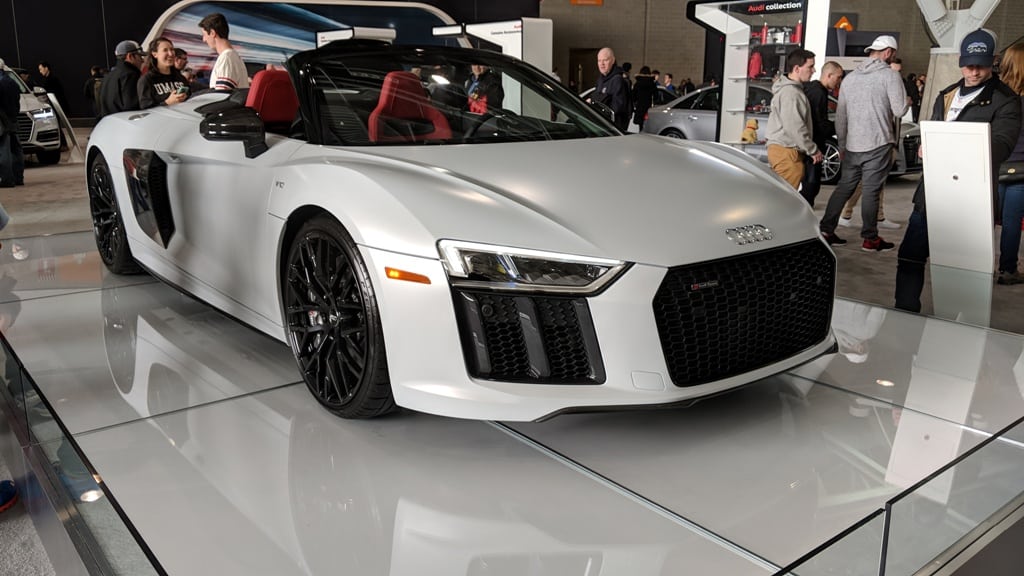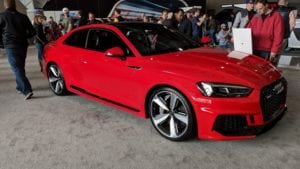 However for the slightly more "practical," on display was the new RS 5 Quattro with a 2.9 liter V6 bi-turbo. The car was quite a sight to behold and was very striking in its stance with bright Red coloring that is sure to be a head turner. With claims of 0-60 at 3.9 seconds and a top speed of a 155 MPH, it's sure to put smiles on whoever may be driving it.
Our next foray into the exotic world found us looking at the Porsche displays, Featured were their Crossover machines that quite frankly I just cannot get excited about. However, the 911 Carrera GTS in both Cabriolet and Targa editions were there. Also in attendance was the Racing Yellow adorned 911 Carrera T.
And if that's not enough for you, how about a glimpse of the 700 HP 2.7 second 911 GT2 RS? Carbon fiber hood, and big ole' wing to keep your back end planted. Of Course, if you have ever driven a Porsche 911 you know that is quite literally a necessity on this car. It was a stunning Car to behold in person.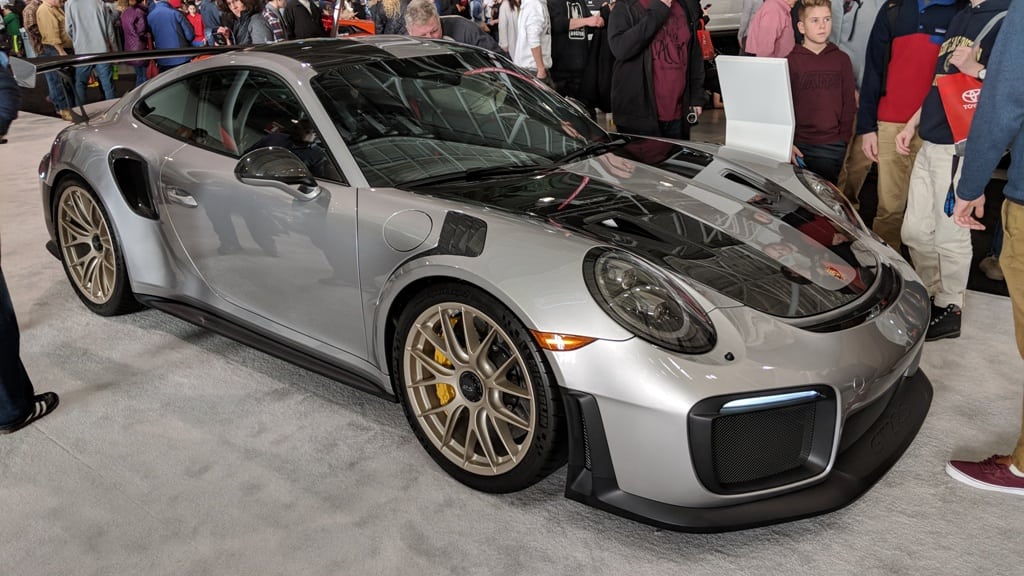 Eastside Motoring had their display of some exotics they have customized from a bright orange Lambos, white Ferrari's, Super Duty trucks, BMWs, and even a Yellow Subaru featuring all the fixings including some heavily tricked out rear LED light fixtures. With many of the featured wheels, that they can get as well.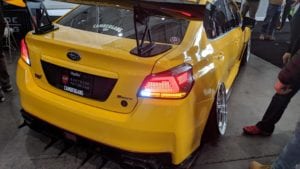 If you live in New England you know the premier auto dealer is Herb Chambers. And his displays were crowded as he was there featuring the many exotics from his dealerships. The entire exotic area was roped off and I suspect proof of your "fat bank account" was what was required to get in and look closely at any of these vehicles. Thus getting good pictures of any of these was a challenge.
The Lamborghini Aventador Superveloce was in all flat black, a look I do not usually go for but for some reason, it just worked on this machine. Bring your $500 plus thousand and you get no carpet or any USB ports. But you will go from 0-60 in 2.6 seconds and get kicked off of New England Dragway for doing a quarter mile run at 136 MPH in under 10.5 seconds.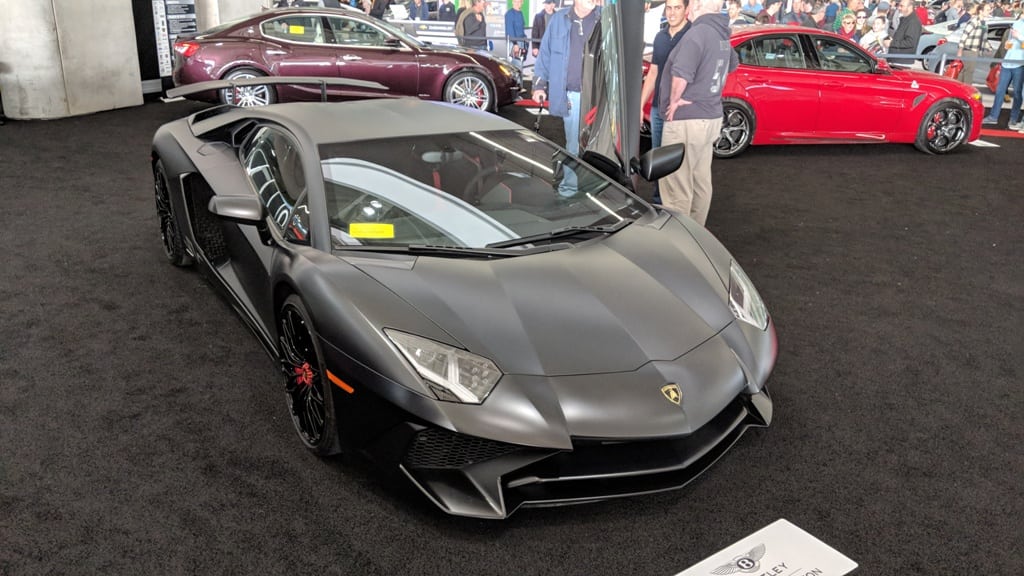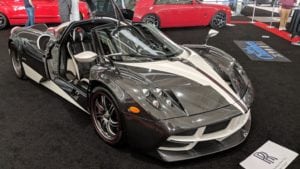 But $500k is chump change when you could get a "1 of 1" Pagani Huayra made entirely of Carbon Fiber and mostly the same in the interior with polished aluminum accents. An AMG enhanced 6-liter Turbocharged V12 delivering 700 Horsepower will propel you throughout the New England hills with a top speed of 225 MPH and 0-60 in well under 3 seconds. All that for a mere $1.4 million.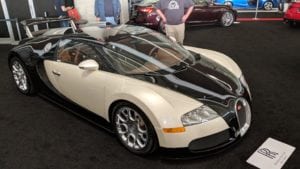 But I suppose a Bugatti Veyron Grand Sport with over 1000 HP would be nothing to sneeze at either. But be prepared to bring 2 million dollars to the table. It's still a stunning car to look at. That will beat the Pagani and Lamborghini and still have luxury accouterments like AC and carpeting on the floor.
My wife walked past the crowds of the Lexus display but I grabbed a quick shot of the Lexus LC featuring a 5 liter V8 with 471 Horsepower. I sat and just stared at it for a bit when my wife called me over to the more practically priced Honda display area.
My current daily driver is a 2007 Honda Civic SI sedan. I have quite a bit more fun in that vehicle than I probably should, and my Son has witnessed me talk my way out of a speeding ticket in it. However, my wife thinks I should go for the Accord. My Initial standing with leaving my Civic was I would do so only if I could get their V6 powered version. However, we sat in both a Sports version and the EX-L that has the de-tuned version of the 2 Liter Turbo Charged VTECH motor in the Civic Type-R.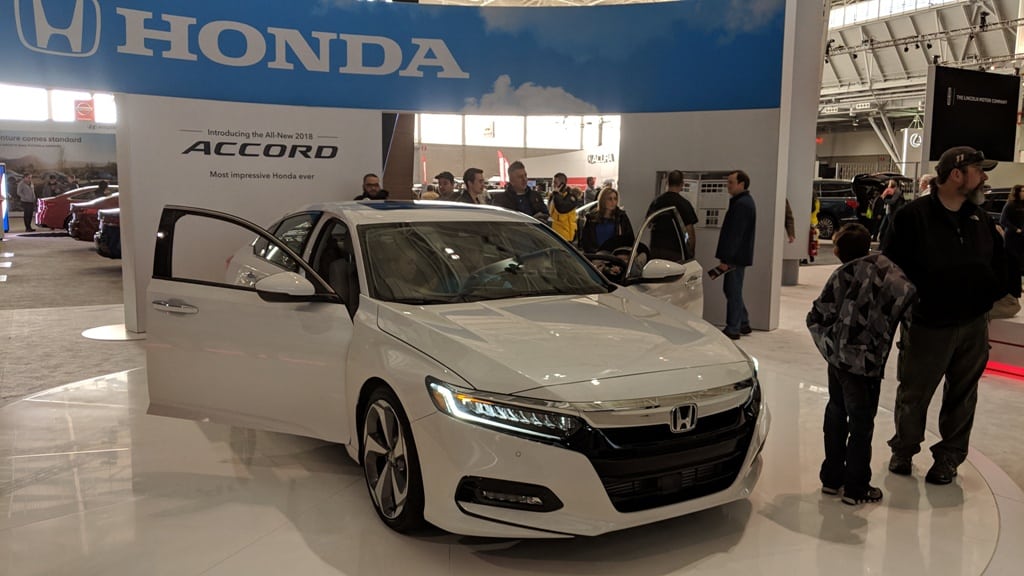 But what's surprising is the Power coming out of that motor. At 252 Horsepower mated to a 10 speed automatic the fun factor might still, in fact, be there with the convenience of still being able to haul the kids to their social and scholastic functions we as parents are forced to do when we have to live in this world some people call "Reality." Super comfortable to sit in, with its spacious interior, and with all the bells and whistles we come to expect from Honda.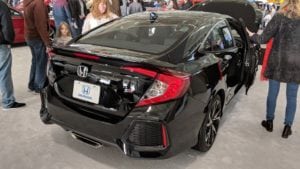 All that being said I had to look at the sport Civics in attendance and let me tell you, they do not disappoint. The Civic Si sedan on display features the 1.5-liter Turbo VTECH that initially disappointed me. I initially felt as if it was a downgrade from my 197 Horsepower VTECH sitting at home in my driveway. But the 1.5 delivers a surprising 205HP. Interior wise, it is an immense upgrade from my 2007 with much better visibility and again all those Bells and whistles we come to expect nowadays.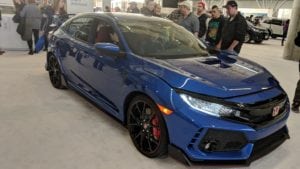 The Line, to sit in the Type R, was long but I suspect interior wise the Type R is just as roomy. However, you also can get a Hatchback version of the sedan, as displayed, which comes with a garishly huge wing that is claimed to be functional. Personally, it's a little too much for my taste, but the accents on the bottom and blacked out wheels are a very nice touch as well as the heavily "R=Red" interior.
That 2-liter motor from the Accord, however, is not De-tuned and will push out a very respectful 306 HP mated to a real 6-speed manual transmission. So – if all of you transmission purists like me like the sound of that, but struggle with the almost 40K price tag to get that, you'll be happy to know the Si has the same transmission option as well at under 30K.
My wife had wandered over to the Hyundai Display. Now, I must confess whenever I think about Hyundai I think of the first ones to come across the ocean that were very cheap, very ugly, and prone to falling apart. 30 years later, a lot has changed for Hyundai.
Hybrids, Electrics, but for us petrol/gearhead enthusiasts Hyundai had a surprise for me. With a starting price of 28k Hyundai offers a beautifully appointed Sonata with a "2.0T" badge on the back. It has a beautiful looking engine bay with prettied up plastics to cover up the ugly wires hiding a 2 liter 4 cylinder motor that boasts 245 HP.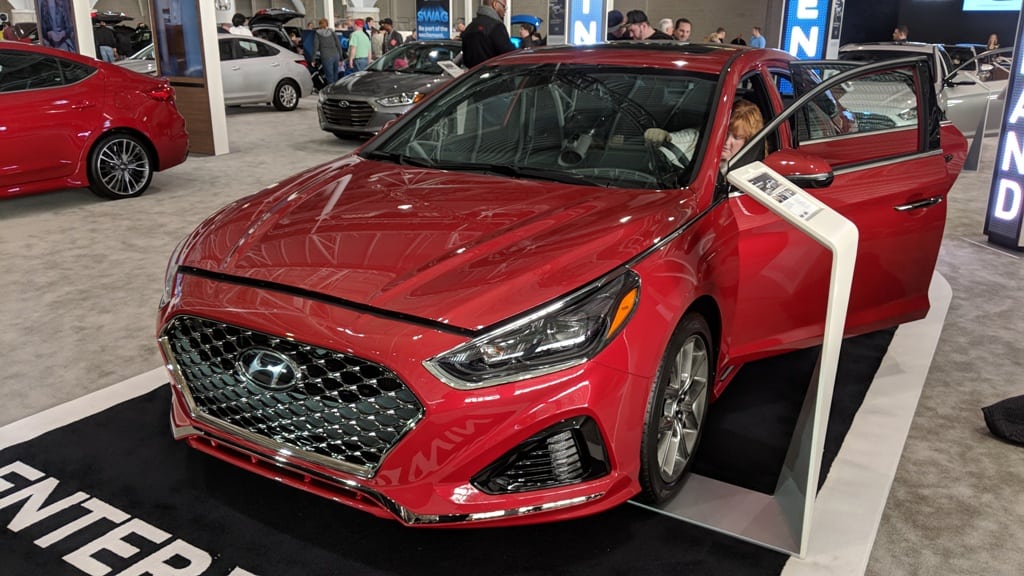 Hyundai claims they have improved previous complaints of turbo lag in the 2017 version as well as addressed the harsh ride complaints. Lag aside Car and driver claims a 6.8 second 0-60 so to me that's kind of a cool thing for Hyundai and on top of that: It's really not a bad looking car.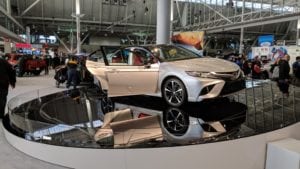 The Toyota display had their flagship, the Toyota Camry, rotating on a 30-degree platform. And I must say the aggressive front grill and styling has drastically improved. A moderately appointed XSE will run you about $30k but I'll admit the Camry looks like you "paid more" in my opinion. But for whatever reason, I've just never have been able to get excited about a Toyota Camry or even a Corolla for that matter.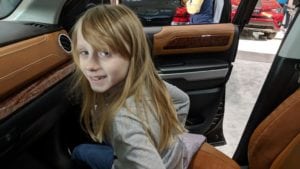 That being said my littlest daughter and I found ourselves drawn to the Toyota Tundra 1794 edition. Done up as a "Cowboys Toyota" you get into a beautifully appointed soft leather interior. Tight turning radius and a a 5.7 liter V8 put Toyota Tundra near the top for towing capacity at almost able to pull a full 10k lbs. Good visibility and comfort puts it right up there with the Chevy trucks also on display and Both Ram and Ford should be right there with GM paying close attention to this truck.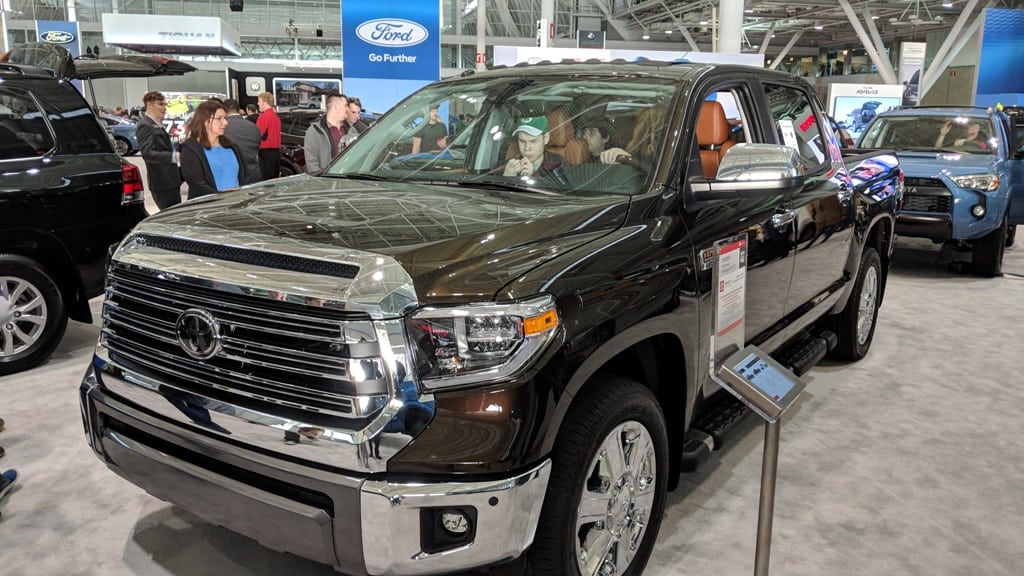 Toyota also had a display of concept vehicles that were single passenger. One claimed to be steered by shifts in body weight and the other appeared to my wife and I, to be a deathtrap if ever in an accident with another vehicle in any major US city.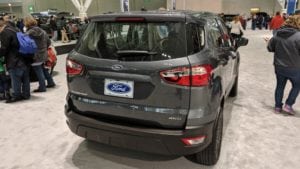 Ford had many trucks on display as well as a new sporty compact crossover vehicle called the EcoSport. Stock the vehicle comes with a turbocharged 1 liter 3 cylinder with an optional 2 liter 4 cylinder as well. Both are mated to a 6 speed automatic and The best way to think about this thing is to picture a Ford Fiesta on Steroids with optional AWD and 4WD models. Look for this model in the 20-25k segments.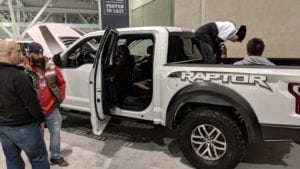 The Raptor truck was crawling (literally) with kids and adults and I had to beg people to close the doors so I could get a horrible shot of it. While I have great respect for Ford's ecoboost motor, I have a hard time picturing people willing to pay 70 grand for a turbo V6 Powered truck, albeit that produces 375 HP.
I looked at all the people in front of the 2 Mustangs and vowed I would return later and went over to the Dodge and Jeep section. On display were the Ram 1500 trucks. Dodge still well appoints their trucks and they still look and sound really good. I had to drag my soon to be 16-year-old son away from the Maroon 1500… Not sure why he was so interested in it.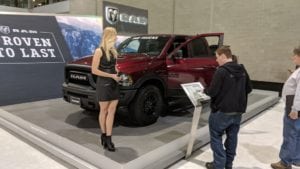 I must confess I've never really been a "Mopar" guy. I could be biased because my dad, in a fit of "Craziness," decided to trade in his 1979 Trans Am for a brand new 1985 4×4 pick-up truck that ended up rotting in my backyard. But that being said, I can appreciate the lines of the 2018 Challenger GT in black featured on the floor.
I was a little disappointed that this was the only challenger here. The V6 Pantastar powered GT still looks stunning. To me dodge's headlight treatment is still one of the most breathtaking things to photograph on a car. But I guess my love of the sound of a V8 Hemi clouded my excitement of only seeing the V6 GT on display. A V8 R/T probably would have gotten me a little bit more excited.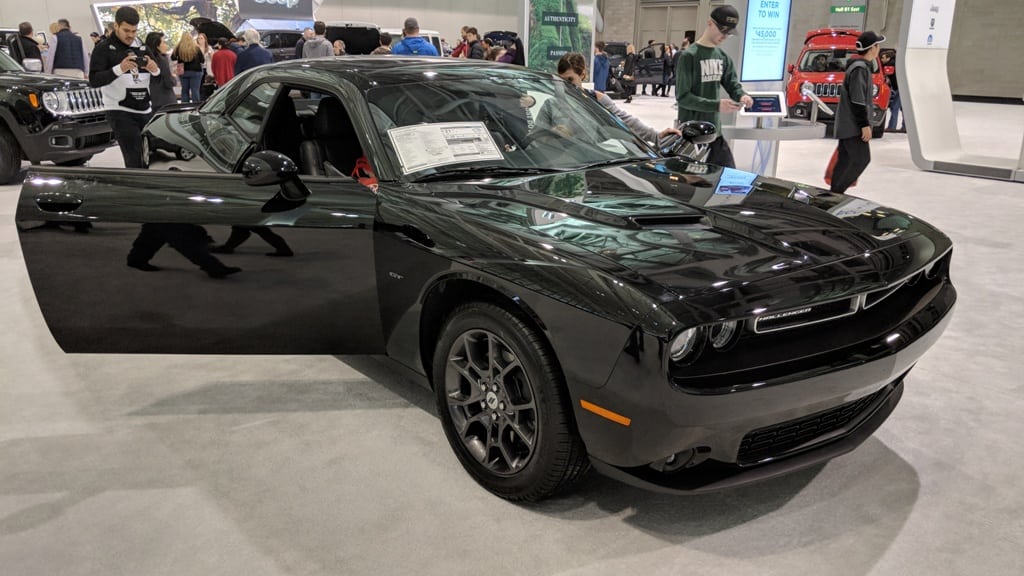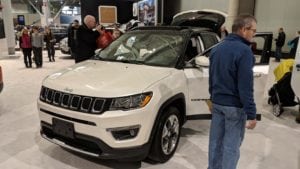 My son and I sat in the Cherokee which in my mind, is the replacement of my once favorite 1995 Jeep Cherokee Sport that was the first vehicle my Wife and I bought together. They had a few grand Cherokees but on the feature display was the Trackhawk Grand Cherokee.
Basically, the Trackhawk is a what I think was a brainchild of a bunch of guys from Jeep who met up with a bunch of guys from Dodge over a few beers. So the guys from Jeep drunkenly announced they thought the supercharged 700 HP Hellcat motor would fit in their Grand Cherokee. The Guys at Dodge snorted their beer out and laughed at them and thus a drunken bet was made. The folks at Dodge are eating crow and must have had to pay up because the 6.2-liter supercharged motor did in fact fit and pushes this SUV at a top speed of a 180 MPH with a 0-60 time of 3.5 seconds…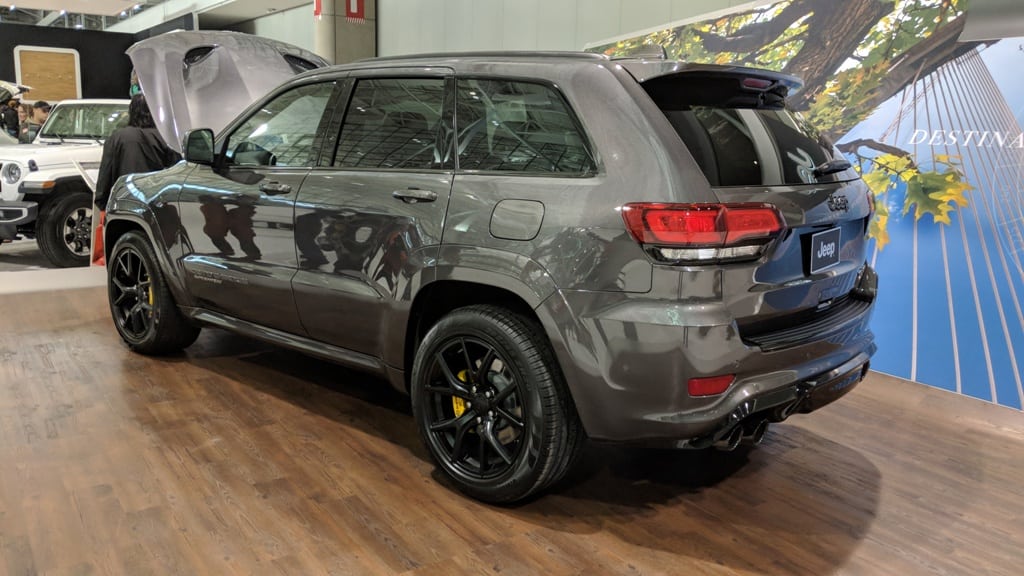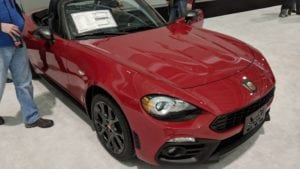 Many people were surrounding the new Fiat 124 Spider. In fact, my pictures actually kind of suck because anytime I tried to step back to take its picture, people would cut in front. I was able to lift the hood to look at the 164 HP 1.4 liter Turbo. Optional, are an automatic and a 6-speed manual transmission. The Machine is essentially a Mazda Miata however, but I think it looks a lot better with the Fiat badges and different front styling.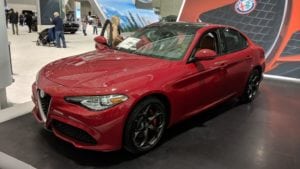 Alfa Romeo had a totally unapproachable display of the Stelvio with its 2 Liter turbocharged I4 putting out a supposed 280 HP to the All-Wheel Drive system. The interior is supposed to be all leather and all the bells and whistles. Also on display was Alfa Romeo Giulia Ti Sport Sedan. I was surprised how drawn I was to looking at this car. It shares the same I4 from Stelvio but I would imagine in the sedan format, that it would handle much better.
The Crowd had somewhat parted from the 2 Mustangs. The new 2.3 liter Ecoboost Turbocharged inline 4 was on display boasting 310 Horsepower. And while many were looking at the sleek lines of that silver machine, many were drawn to the Blue 5 liter 460 HP GT with black accent package. I'm not a Ford guy but – damn, do they look good.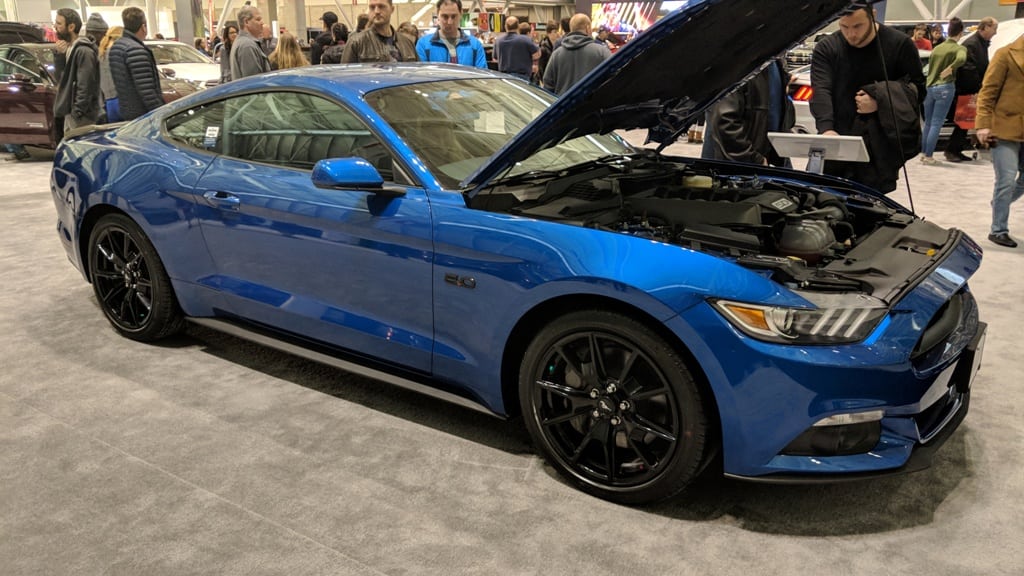 Volkswagen, still recovering from the American debacle known as "Dieselgate" had a moderate display of their staple vehicles. The well-appointed 205 HP GTI was on display as well as Jetta, Beetle, and their Tiguan SUV crossover. All of them priced very affordably I'm sure to lure back the waning excitement of Volkswagens as a result of their scandal with their TDI motors.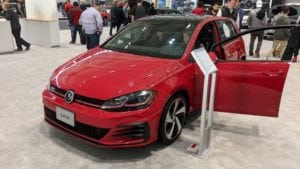 I gotta say: getting a lot of attention that surprised me, was the Buick arena. Starting at $33065 is the Buick Cascada for the soft topped convertible lovers. I must say this is possibly one of the most attractive Buicks I have run across in a long time. They had a bad run of cars in my opinion from the late 80-2010ish era. It's not that the cars performed bad, it's just, they looked so "Blah." But I think both the Cascada and Lacrosse vehicles may be the start of a change in that opinion for me.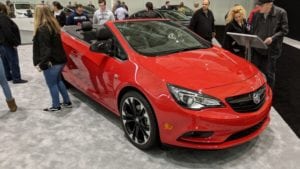 GMC and Chevrolet took up probably the most space at this show and for the most part, there was not much that changed for their vehicles since 2017, they made up for it by showing up with a good selection of vehicles to compare and contrast the options available. You could literally get lost comparing the Sierra, Canyon, Yukon, Terrain, Acadia, and all of their Denali equipped counterparts.
A Denali equipped Canyon Truck was on display equipped with the 2.8 liter Duramax I4 Diesel. While 181 HP may not seem like much you gotta remember that Diesels, by default, come with Gobs of torque. Therefore, this equipped Canyon with its spacious interior and 360lb feet of torque, will haul 7700 lbs. of a trailer. That's more than most medium to even larger RV Trailers out there.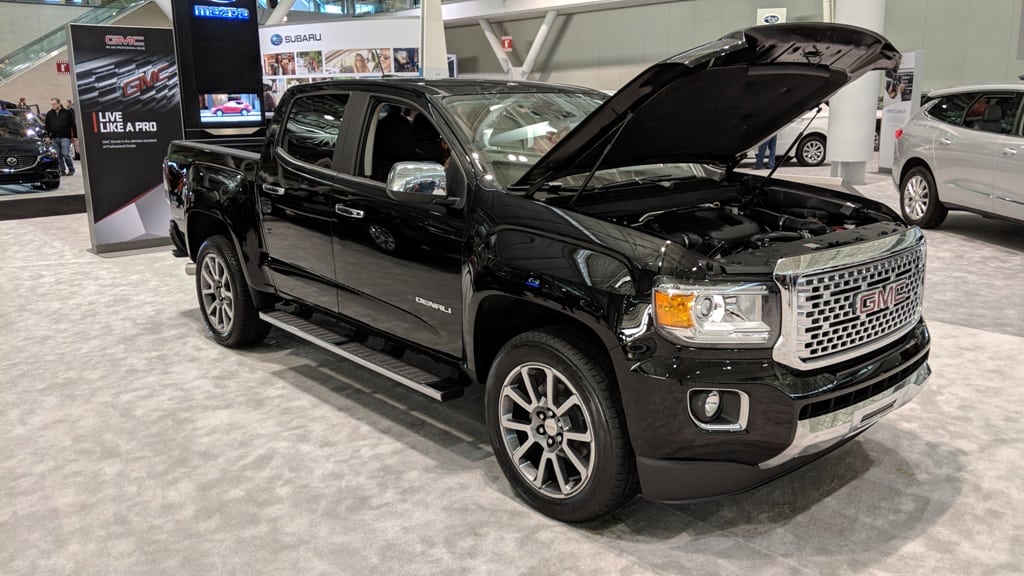 Chevy had a Heavy Duty version of their trucks, but let's be honest. While everyone loves themselves a good Chevy truck, you all want to know if I saw the New Corvette and/or the Camaro. And indeed I did, but not necessarily the ones I wanted to see.
However, the 6.2-Liter 650Hp Corvette Z06 on display was indeed fully specked out with Brembo Carbon Ceramic Brakes and the Z07 Suspension package. The 19″ front/20″ rear, Black-painted with Yellow stripe aluminum Z06 wheels wrapped with Michelin Pilot Sport Cup 2 tires looked really good on the Watkins Glenn Metallic Grey Car. Sitting in the Car it felt as you are enveloped in a loving cradle of power. While my Daughter has a life goal for an Audi R8, I have a Life Goal of a Z06! Wow!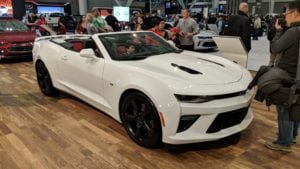 For the more affordable minded Chevy Fan, there was a Camaro with RS package coupe, and the SS adorned 6.2 liter powered 455 HP V8 convertable. Both looked radiant and stunning on the floor and I was pleasantly surprised sitting in the convertible how easily I fell in Love.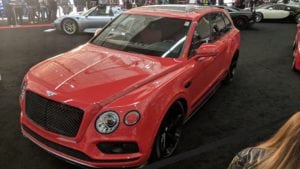 Coming out of the Chevy area found ourselves looking at the rest of the enclosed Exotics led off by the Rolls Royce, Bentley, and Another Alpha Romeo? And a Maserati. Behind all that was a beautiful display of the latest Austin Martins on display. The Vantage taking center stage and unfortunately, not even remotely approachable.
Lotus was represented with their Evora 400. With its small chassis and 3153 lb. weight being pushed by a 400 HP supercharged V6 that boasts a 4.3 second 0-60, with a top speed of 172 MPH. If I'm not mistaken that may be Lotus' fastest offering to date, and it looked stunning in the dark metallic grey.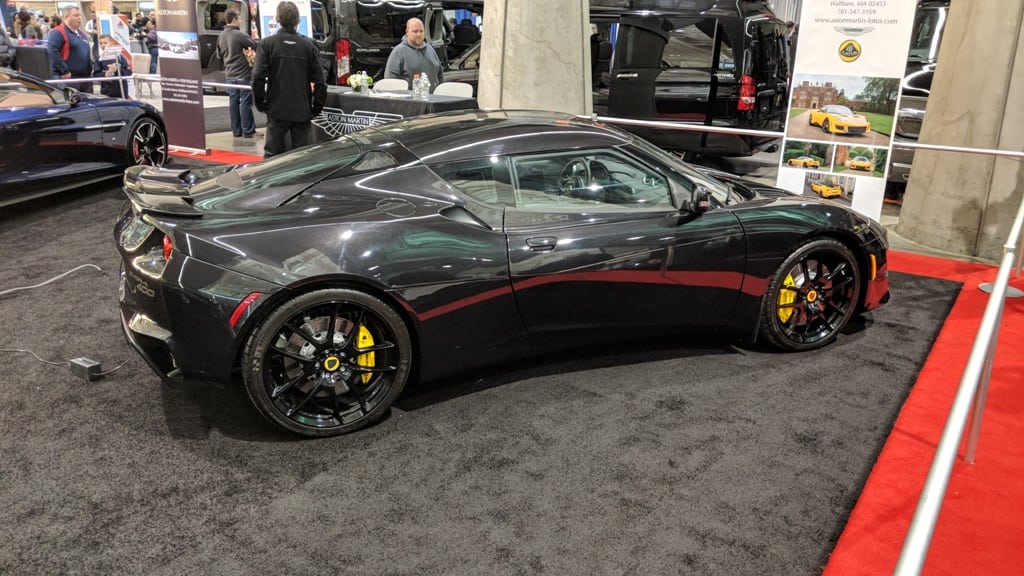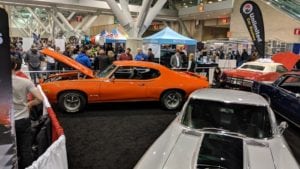 A small cordoned off area had a mix of a few Classic muscle cars and Hot Rods. A Red Mercury Cougar, Pontiac GTO in Bright Orange, A 1967 427ci Corvette, A Rare 1965 Tri-powered GTO with an Automatic, and a Hot Rodded 50's Chevy Pickup Truck in Bright yellow. If I'm honest, this small display of classics kind of made me hunger for more and thus, I cannot wait for the upcoming Car Show season.
The Kids were getting tired, and a bit whiney. They sat down and I very quickly breezed through the Mazda section unable to look at the Miata very closely as it was surrounded by people who wanted to sit in it and get close. The MX-5 boasts 155 HP and still has the distinction of being the affordable fun 2 seater roadster.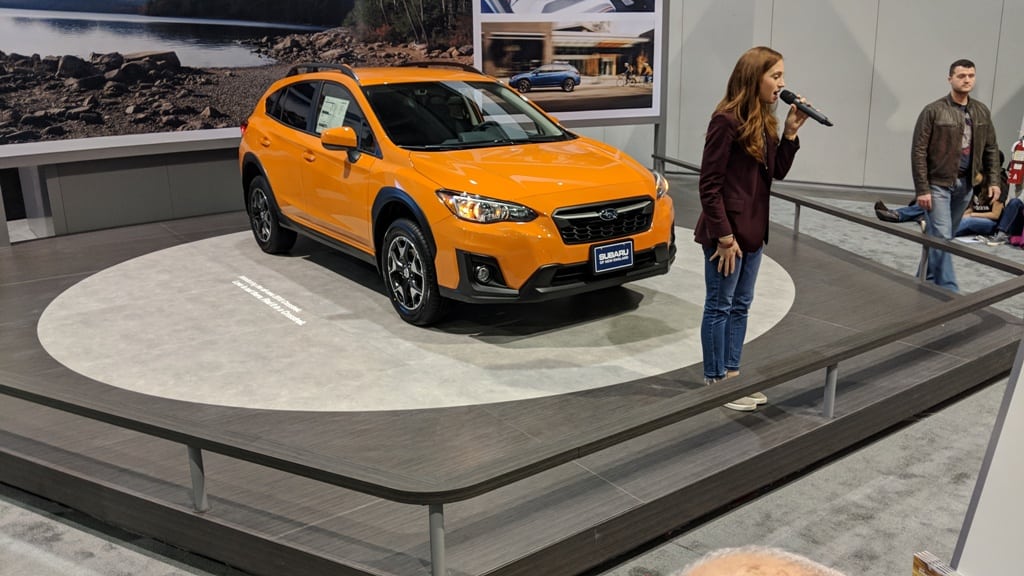 Kind of set off in a private corner was Subaru. They were featuring their all-new 3-row seating Subaru Accent. Premium editions are touted with a towing package able to tow 5000lbs. That's pretty impressive for a 2.4 liter flat 4 cylinder engine. The ascent is a 2019 model debut for Subaru and was featured in Orange. Subaru also featured the ever popular tuner favorite STI sedan.
The Missing
I have to say there were 3 very big names that were missing from this Auto Show. Where was BMW? I mean not one car here proclaiming to be "The Ultimate Driving machine?" This saddened me as I do kind of have a soft spot for BMWs as my father had a 1970 BMW 2002. And Speaking of Germans? No Mercedes on the Floor?
The other big name that was missing was Cadillac. I would think Cadillac would be the "Staple" of this type of Auto Show and they were not be seen at all. I would have liked to have seen their CT-6 and their new CTS-V 6.2 liter powered machine. But alas I guess it was not to be.
In Conclusion
The 2 big names missing aside I was ecstatic to see what I saw. I was surprised by some of the foreign offerings and in some instances, my love of the ever American GM offerings were re-affirmed, but I can still appreciate the other offerings from Both Ford and Mopar. And yet I was surprised by some of the foreign offerings as well.
All in all, I had a blast, but again, I can't wait to start looking at some of the classic vehicles at our usual coverage of Classic Car show venues. I hope you enjoyed reading my coverage of the 2018 New England International Auto Show!
Check out The above photos and more in our below gallery!