First Classic Cruise at Murphy's Taproom a Success!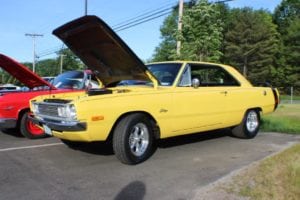 I have to admit I was not sure I was really in the mood for a Classic Cruise on a Sunday night. It's kind of an odd day and/or time. But You know what? I'll tell you: When the Venue is right and the Cars are cool… It's an excellent night for a Classic Cruise…
The First Cruise of the year for this venue.
This Sunday was the first ever Cruise at Murphy's Taproom. Mick Thomches informed me of this show sneaking a flyer into my car. I then posted the event on our Calendar. Mick and his wife are great, and I have found. If you are a regular of the many Shows in and an around Milford and/or Nashua and most of Southern New Hampshire for that matter, you have probably seen Mick and His wife and his 1972 Dodge Dart complete with a chromed out 360 ci motor.
Quite a few there for a first showing
I motored up with my 13-year-old daughter as my co-pilot for the cruise. When we showed up quite a few folks had already arrived. Some of us scrambled with our California dusters to get the layer of Pollen that seemed to show up for the weekend. But quite a few cars were there and I suspect when word gets out, there will be even more than the 50+ that showed up.
My Favorite Car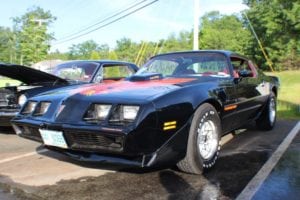 Now, I think they chose the 1932 Chevy Coupe as the Favorite. But…… Waxing nostalgic for me, with the recent passing of my dad, was the Black Pontiac Trans Am. Yeah, My dad had one of these, and while the interior color was wrong, (But still soooooo cool.) the rest was exactly as my Dad would have ordered.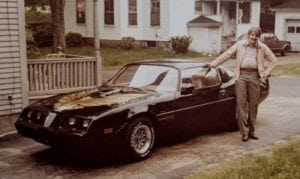 I'm not gonna lie, the 1979 and 80 Trans Am is now definitely my weak spot as it makes me think of my dad with his, and this one is just…. Well…. stunning. The interior is awesome… the paint is awesome… The wheels are perfect and made my fingers hurt remembering cleaning my dad's wheels… I'm not afraid to admit I got a bit emotional seeing this car. The red one is from the show, and the other is my Dad in front of his the day he brought it home in 1979.
Great Venue!
It's a great venue and there was some food in place at reasonable prices and you could even have a beer if you wanted. (Drink Responsibly.) My Daughter and I already had drinks with us but we opted to get a cheeseburger, a few hot-dogs, and a bag of chips for under 10 bucks. Cant beat that. And then you get to look at some beautiful cars to Boot! You guys (and gals) should definitely check this show out!
Check them out: