2019 New England International Auto Show
This year for the 2019 New England International Auto Show, I took some advice from a few folks who read my article about the 2018 show and applied for a Press Pass. So A few months ago I went to the application page and figured I would not hear anything back. I mean, who would take me seriously as a member of the Press with my silly little web site right?
A Member of the Press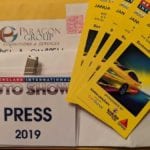 Well, less than a day later after a few e-mails I was informed my pass would be on its way. And in a few days in my mail was a Tag labeled "Press" and a few Tickets for me to do with as I please. My wife and I decided to get a Hotel room next door so I could get in early and see if I could get up close and personal with a few of the cars and my camera.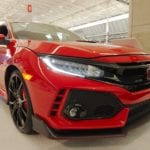 As I walked in early 8 AM on Saturday flashing my "Press Pass," my excitement level was through the roof. Walking In I immediately looked right at the Honda and Toyota offerings on each side. And of course, Honda had their Honda Civic Type R prominently in the very front row.
I had it all almost to myself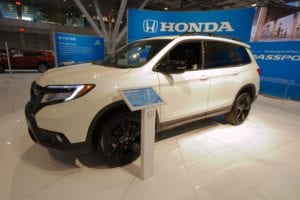 Last Year it was because of this show that I decided as much as I wanted a "Type R" my Wallet would probably be only able to get am Si. And thus I did. And there in the back was almost my exact Car. Honda, however, had as their feature Car the Honda Passport
The passport is Hondas shortened version of the Pilot. A 5 passenger SUV platform that is similar in size to the Jeep Grand Cherokee. The machine is powered by 3.5-liter V-6 engine rated at 280 horsepower and 262 pound-feet of torque. In the Passport, a 9-speed automatic transmission is standard and it can send power to either the front or all four wheels. The optional all-wheel-drive system is shared with the Pilot and includes several traction control modes for slippery terrain.
The Exotics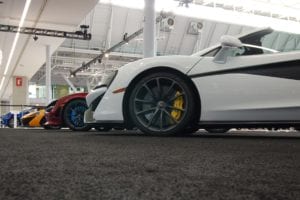 Since I was in Early with no crowd to get in front of my lens, I decided to walk over to the exotics. Maserati was well represented and Herb Chambers brought in the many exotics that were present and available at his dealerships. Featured very prominently this year was a row of McLarens though.
I'll be honest, up until this show, I was not really a McLaren guy. I mean I have seen them and all, but they never really "wowed" me. But I was able to get up to the Senna and the rest of the lineup. For the price of a House in New Hampshire, you can get one of these babies. They are indeed beautiful and I might have found myself falling in love with them.
As I got up from the ground looking at the Bentley, I saw a reflection of light reflecting off this beautiful red paint off in the distance. As I walked toward it I realized that Acura had gone all out in making sure their NSX was lit perfectly in the light that made its paint shimmer and glow. After I wiped the drool from my face I began snapping some pictures of this beautiful machine (Look for more of them in the gallery below.)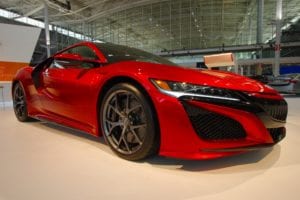 The 2019 model has had a bunch of styling upgrades added and in addition it has improved anti-roll bars for better cornering. Don't get me wrong it will still be outpaced by the McLarens on the other side, and even possibly the Audi R8, (More on that later) but this hybrid electric supercar combines electric and a 573 horsepower twin-turbocharged 3.5-liter V6 that when applied correctly can power this vehicle 0-60 in the low 3 second times. Not quite the price of a house, but maybe the price of a nice Condo.
The Suprise Buick Regal GS
I realized I was running low on time before the crowd arrived. I decided to walk all the way to the other side just to check out and see if anything caught my eye. Kind of hidden away, in the corner of the Buick display was my "Surprise" for the show. I have got to say, I have not exactly been very excited about a Buick in……………….. Uh………. Hmmmmm……….. Yeah, I can't remember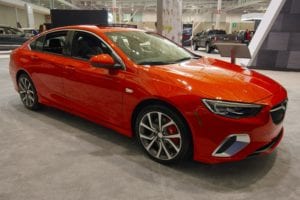 Now that being said, I'm a little worried the wrapper won't match the inside in looks. I was wrong. The interior is exquisite, and instead of the turbo I4 from the Buick Sport, it has a 310 horsepower V6 fitted toa 9-speed automatic laying it down to all four wheels in an AWD format. This is not your Fathers Buick, But the specs say excitement but let's be honest it's competing against the Toyota Camry, and the Lincoln MKZ. The lack of paddle shifter might be off-putting, but it's definitely a car for tall folks looking for a comfy semi-sports sedan.
Admittedly this machine was introduced in 2018, but it was more of a quiet release and I knew nothing about it until this show.
The Muscle Car Showcase
Once the Crowds started to come in I went over to introduce myself to Rich Doucette the founding Chairman of the Boston Cup Classic Car Show. He was standing around and meeting with folks in "The Muscle Car Showcase." He was getting approached by many people, he's a popular guy and I can see why. His passion for cars is readily apparent.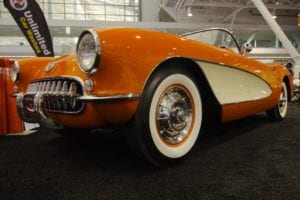 His Show held on the Boston Common is picture perfect and filled with vehicles that you don't normally see, that are high-end specimens in their class The American Best in Show 1957 Chevrolet Corvette was on display and I got some good pictures of this beautiful matching numbers car. I have not made it to this event "yet," but I think I'm going to make a supreme effort this year. Check out the website for the event here. He's a great guy and I hope to meet up with him again and hear more of his stories and experiences. (be sure to check out more shots of this car in the gallery below)
The Family arrives… Errr Well most of them…
My Wife called and brought the family in. Unfortunately, we had a cold virus introduced to our family, so my Son asked to bow out and see if he could fend off the virus. He called me at one point barely able to talk to check up on how I was doing. He was disappointed to not be there.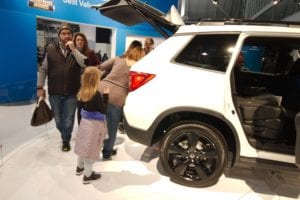 So my wife Dawn, and My Middle Daughter Miranda, and My Smallest Kassandra, show up and we then started to walk around as a family. Dawn was really interested in the new Honda Passport and looked in and around but was worried about its lack of cargo capacity compared to our current Yukon XL even though it had extra storage bays.
The Family Perspective
We quickly made our way through the Nissan, Kia, and Hyundai Arenas. Kassandra wanted to sit in a few cars and was able to do so. She was not as impressed with the NSX as I was. (more on that later)
My Wife and I stopped in the Genesis arena. And boy… Let me tell you… All 4 of us were impressed. My Daughter sat in the 5 Liter 420HP V8 powered G80 and she fell in love. My Wife did as well and as I sat in one I realized how far this car brand has come. A very impressive car with an extremely well-appointed interior and a very appealing exterior as well.
Kassandra's Show favorite: The Audi R8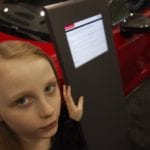 My Youngest daughter unlike me has always had a passion for McLarens and was excited to see them in all their different colors. But her other favorite Car that was my middle daughters "Life Goal" in last year's article, is the Audi R8. She walked right up to the display and immediately pointed out the specs to me that she is impressed with.
How can you not be proud of your 7-year-old daughter pointing out and reading off specifications and saying "This is why I like this Car" and she added: "Just look at it." She reinforced her point by saying that it has 532 Horsepower and a "Sport Tuned Suspension" I can't argue with her. It is indeed a pretty cool car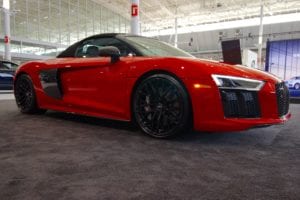 We meandered through some of the displays of wheels and powder coating services as well as a fancy line of leather bags that had an old Land Rover displayed. Went through the Muscle Car Arena again and realized we were all kind of hungry.
Just before we took a break to eat at the available food on site, My Wife and I took a quick look at Mazda. My wife still thinks the Miata is a cute car and I think she's right. She also likes the similar Fiat Spider Abarth that we later looked at.
Wife not as impressed as I was
After we ate I had to drag my wife over to the Buick GS. She was not as impressed as I was. However, I noticed my Daughter looking at it and I realized she was looking at cars and then typing onto her phone. When we were at the Mazda Arena she was looking at the Mazda 6 and I saw her typing. I finally asked her what she was doing and she said she's making a list of the cars she found interesting and wanted to do more research on.
Our Favorite Trucks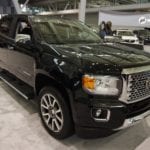 Since my wife and I have been in love with Both GMC Yukon XLs that we have owned we were relieved to see not much has changed on our favorite big SUV. Automatic retracting running boards were the big change that we noticed. However the flyer says that 2020 will be a bit of a redesign.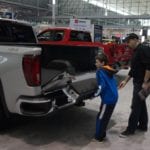 Both Chevrolet and GMC really wowed us with their redesigned Silverado, and GMC Sierra. We were impressed with these large trucks and their impressive features. What we really liked is the abundance of legroom in the backseats of both vehicles. At a slight 6 foot frame for myself, I had plenty of legroom in abundance. And GMC's new rear tailgate that becomes a step for ease of access up into the bed seemed to be a crowd pleaser. I remarked that a pool noodle could be modified to make the tailgate a perfect seat for the Tailgaters of the world.
The Blazing Disappointment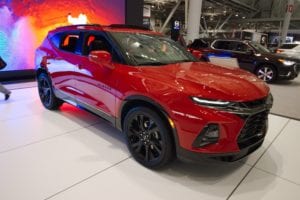 We were not impressed with Chevrolet's introduction of the Blazer. It was featured in the Chevy arena and what bothered me is that right next to it (Or above and to the right in the picture) was the redesigned in 2018 Chevrolet Traverse. Looking at both of them it was actually hard to tell them apart. It's only slightly smaller but the grill is similar and size wise, you almost need a tape measure to be sure.
It comes available with I4 and V6 engines and with front- and all-wheel drive options. To be fair there is at least a fair amount of visual differentiation between the sporty-looking RS trim and the more mainstream Premier that was also on the floor. But if you are going to bring back the legendary name that is "Blazer," I was disappointed it was not more of a "blood relation" to its original namesake.
The Jeep Gladiator
We went over to the Jeep Section and took a look at the brand new Jeep Gladiator. It looks interesting and is targeted to compete with the Toyota Tacoma TRD models. While some speculate it's also gunning for the Ford Raptor? I don't think so. It is set to hit showrooms later this year with a 285 HP 3.6 Liter V6 engine and it's rumored that a Diesel Engine will soon follow. It's shown towing a rather large Boat in publicity stills and indeed it's rumored that it will tow 7500lbs.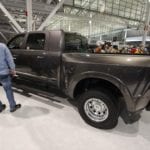 As we went to Dodge arena many were gawking at a Black Hellcat SRT. But the biggest buzz was about the RAM 3500 and the 6.7-liter Cummins turbodiesel I6. This engine, depending on the transmission version will come in three options. With manual six-speed unit, it will produce 350 HP and torque of 660 lb-ft. When paired with the six-speed auto gearbox, it will make 370 HP and 800 lb-ft of torque. The heavy-duty six-speed automatic will upgrade power to 385 HP and torque to impressive 930 lb-ft. That's almost 1000… Wow!!!
The Misunderstanding of Ford?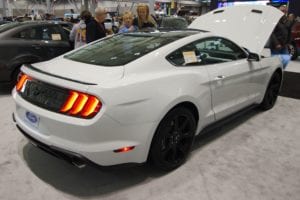 We looked at the Ford section. And after looking at the Ford Mustang I was speaking to my Daughter Miranda about how Ford announced they have discontinued many of their "Cars." Walking up to one of the specialists, I asked what she has observed as the "Reaction" from the public of this news.
Her response was that many are indeed "Misinformed." Yes – Ford has eliminated many of their "Cars." But that's not necessarily a permanent situation. As I walked away and thought about what she said I thought to myself that while many are buzzing of the news of the possible 2020 return of a retro-inspired Bronco, many are ignoring that Ford is also looking at Hybrid Technologies for their entire lineup. Thus, I would speculate that Ford designers are probably working on new concepts around those technologies. Meh, time will tell…
We walked through the Toyota Arena and my wife liked the big truck but we still thought the GMC and Chevy truck had a more usable interior. The Camry is looking good and there was an 86 TRD Special Edition that was getting a lot of attention.
Time to go
Realizing that impending snow was on its way and now being 5 PM and I was losing feeling in my feet and legs from being on them all day. We decided to make or wayward trek back home. The Girls had a good time and really enjoyed getting in and out of all the different cars. Kass was disappointed she was not able to sit in the exotics herself but enjoyed the Jeeps and many other vehicles.
A 14-year-old future driver's list
And as I said above, my daughter Miranda had a list of Cars. Here are the Cars that my 14-year-old daughter. Who – by the way, is realizing she has 2 years to go before she can be like her brother and enjoy the freedom of the open roads:
Infiniti Q50 and Q60
Acura A-Spec TLX
Lexus LD 500 F Sport
Genesis G70, G80, and the G90
Audi R8 V10 (Still a life Goal I think.)
Mazda 6
Mazda MX-5 Miata
Buick Regal GS
GMC Sierra Denali (Just like her Mother)
Jeep Wrangler Sahara and Rubicon
I swear I did not coach her in any way. I have to say… They are all excellent choices… I'm going to need to tell her to get a good Job so she can afford any one of these choices. But actually what impressed me the most about this list is that with the exception of maybe both the Miata and the R8, the rest are sensible driver cars that have a practical application in the New England area. But are still pretty cool cars… So well done on her part I think.
A great show!
Anyway, check out the gallery below of all the pics I took with my Camera. We all had a blast. Thus, the New England International Auto Show just makes me pine for the warm weather so we can look at the usual Classics, Hot Rods, Tuners, Rat Rods, and Exotics in and around New England. See ya at the next Show!