Car Show Car of the Week #6
Now – I know what you are thinking. You wanna say: "Joel – You always say you are not a fan of Mopars!" and you are right. I do say that all the time. But then Lately I see one at a Car Show that just blows my mind! And the 1970 Road Runner put together here by RMR Restorations in Hollis NH, is just one of those examples of a Mopar that make my heart go "pitter pat."
Oh Belvedere – Come here'a Boy!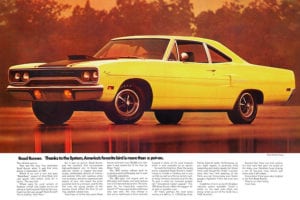 The First generation Road Runners were based on mopar's B platform or B-body, and it was the name of Chrysler's midsize rear-wheel-drive passenger car platform from 1962 through 1979. but all of Chrysler's B-platform cars in any given model year shared the same chassis, with only styling differences between the Dodge and Plymouth models. The cars were otherwise mechanically identical.
The Plymouth B-body series was ultimately comprised of four cars with nearly identical outward appearances (differing only in trim packages, drive train and accessories). These were the Belvedere, Satellite, GTX and Road Runner. The Dodge models based on the B-body were the Coronet, Super Bee, and the Charger.
The Road Runner had a few cool little aspects that made it the go-to affordable muscle car. besides having a standard 383ci 335 horsepower motor, and an option for either a 426ci or 440ci behemoth. The Road Runner also had the Air Grabber; it consisted of a fiberglass air duct assembly bolted to the underside of the hood that connected to twin rectangular upward-facing vents in the hood with rally red vent screens. The assembly ducted air directly into the engine. The vents in the hood could be opened and closed via a lever under the dashboard labeled "Carb Air."
A History of Repeat Customers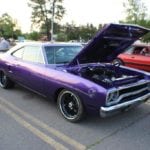 A customer contracted RMR Restorations to build this vehicle as a close to stock looking vehicle with improvements. My Knowledge of RMR has usually been associated with straight up restorations. I had heard rumors that they had started doing a few customizations.
RMR's business has steadily grown and is known for having a long list of repeat customers. They offer complete or partial restoration on classic, antique, muscle, or street rods. and provide pictorial documentation of all work performed. I have always heard that they encourage customer participation. Customers are welcome to visit daily, weekly, or not at all depending upon their availability and location.
Build what the customer wants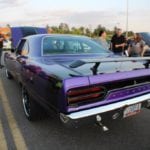 Bryan Wargo from RMR brought the machine in to show it off a bit and was eager to answer questions asked by anyone who wanted to look at this machine. He seemed, genuinely proud of the work done by RMR and he absolutely should be!
This is a Road Runner that started its life as a base model Road Runner with the standard 383ci power plant. But it has been customized quite a bit to almost a "Rest-o-Mod" level of reliability options. Wilwood Brakes all the way around as well as an upgraded K-member in the front from Alterktion. The stance is perfection and the wheels fit better than ever.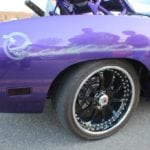 But I loved the little things. The airbrushed decal replacements are stunning and just look perfect. The interior is perfect and the engine bay got a "not so little' improvement with a Mopar Performance 440ci crate motor with Fuel injection.
You can check out some build pictures at RMR's website and it's obvious a lot of love and care went into this build and that's why I chose it as this weeks Car Show Car of the Week!
Check out the pics of this beast below: