Car Show Car of the Week #1
We kicked off this feature of the New England Auto Shows Last week unofficially on facebook. A lot of you reacted quite favorably and thus we are making it an official feature.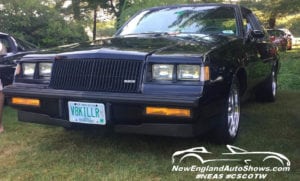 This weeks Car Show Car of the Week is my friend Al Breunich's 1987 Buick Regal Grand National. It is considered by many to be the most Barbaric muscle car of it's era. Car And driver said: "In a world of sleek shapes and refined manners, the GNX is an ax-wielding barbarian laying waste to everything in its path." It was America's answer to the question: Can America make a fast Turbo? And Buick's Answer was "Hold my beer, and check this action out."
Buick Lied!
That's not even the funniest bit about this car. Buick out and out lied about is output. Buick put on it's brochures that the Grand National only put out a conservative 276 horsepower. There is not a single expert who will tell you that that number is even remotely true as most experts agree that number is more like and/or closer to 300hp, and 360 lb-ft of torque, the GNX would thus become the fastest Grand National ever.
And the After market parts exploded to make the car even more barbaric. If you owned a Buick Grand National, You could easily buy modifications that made you fearless of any other car on the street. Even Stock the Buick was putting out numbers with it's 3.8 liter Turbo that even the Exotics with 7 liters could barely touch. And everyone was taking notice of them. Even The V8 powered F-Bodied Firebirds, and Camaros, and Even the Corvettes at the time, could not compete with a car that was as extremely fast as the Buick at 4.7 sec 0-60, and 13.5 sec @ 102 mph in the quarter-mile.
It has been said that the Car came from the "Dark Side." Some even said it Was Darth Vader's Car. It was a "replacement for displacement." Putting your foot into the throttle of this beast has been compared to being shot out of a cannon or even likened to being launched off of an aircraft carrier.
Back in 1987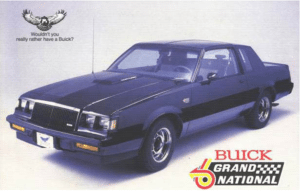 John Lamm at Road & Track was very taken with the car and had this to say: "Say you manage to snag one of the GNXs for your own. What could you do with it? Some might consider locking it away because in this era of too many same-same cars, there are precious few that will be the serious special interest cars of the future. This is one of them." Or, he continued, "You could go looking for Corvettes to embarrass."
When I look at Al's car I swear it not only looks fast, but it looks sinful. Buick took the luxury of it's G-body and then took the rule book for said G-body and went "Yeah, were just gonna throw this book in the trash and burn it with gasoline." The result was and is arguably one of the most sought after vehicles ever to come out of GM in the 80's.