4 Years Old and Still Somewhat Growing!
I remember the day vividly when I walked into work on a Monday. Our Reciever in the backroom who is a fellow "Car Nut" says "Hey there jerky, you bring that fancy Corvette of yours over to the Car Show in Candia? I looked at him in confusion. "Isn't that show was in August?" I replied… "No that's the Camaro club Show this one is a weekly one," he said.
One Week Later
A week later I came in and asked him if he had gone to the "open house" and Car Show in Merrimack? and my Friend said, "What open house" in Merrimack?
"There's gotta be a better way!" I said… Sure there are websites that have car shows listed on them… And sure there are newspapers and some web listings and flyers… Sure there are a few announced on facebook… But I wanted a calendar. How come there isn't a Calendar? And then I said: "Why Don't I make a Calendar?" On the day before my Daughters Birthday, I registered the Domain, and a week later I had a simple website with a calendar…
And thus NewEglandAutoShows.com was born
In August and September of 2017, I lamented that I only had 20 to 40 visits to the website a day. The Site Grew and then the Pandemic hit and drastically threw us all for a loop.
4 Years Later
COVID While still amongst us it has had much less of an effect on us this year. Last year we averaged about 436 users per day. This year we are over 1000 Users a day again which is fantastic! and about 39k users a month which is more than twice what we did last year!! You folks seem to be using the site. Indeed even some Car Show organizers are reaching out to me to post up their shows and Cruizes and also. Unfortunately, their cancelations due to COVID.
We now have a "Public Master List" that is now more of a "Living List." I originally shared it out of necessity due to COVID cancelations… Its Format Changed at the beginning of this year to help me and you. "The Master List" was originally a private list I had to track all of the shows past and present… Some are stale and some are not happening again… but it links to the calendar entries on the website so that I can easily find and changed dates as both when I check and/or if a "show-runner" contacts me to let me know of a cancelation or the new dates.
The NEAS Fleet Changes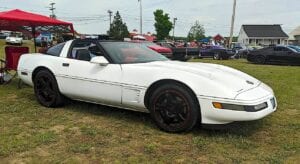 BASEFUN, my 1995 Corvette, Got some upgraded wheels as well as new Brakes. She is a great Car that I adore and love to drive and she can represent both the Classic and "Tuner Car" scene very well. While I do not consider her even remotely a "Show Winner" by any means, She does get a lot of attention.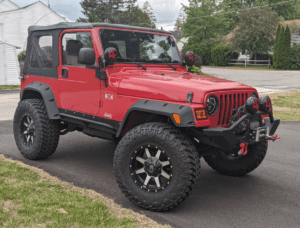 After getting rid of a 2018 Civic, I thought Long and Hard about what I should replace her with. She was ok to hit some of the Tuner Meets but she was limited in that in order to do any modifications it would require far more money, know-how, and time than I could properly give her.
I had started to list some Jeep and Truck events on the website and I have always had a love of Jeeps… Thus Winston JEEPFUN was acquired. He (Yes He) already had a few modifications done and I worked on getting his wiring up to par to support lighting as well as an old school CB-Radio. Winton, (Yes, I named him Winston.) has made his Debut at a few events including our first coverage of a Jeep event. He has been received Very Well by the public.
Here's to a great 4th year!
Thank you all for your usage of our little site and most of all thank you for your support and spreading of the NewEnglandAutoShows.com website! Hopefully Next Year, we can have more shows.
THANK YOU!