Car Show Car of the Week #2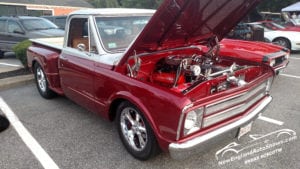 This weeks Car Show Car of the Week is Well – It's a Truck.. Look at any modern truck today and it becomes hard to deny that every personal and work truck out there, owes its roots to the 1967-72 GMC and Chevy C-10 Pick-up. Many of them were produced over the years, and today their appeal has not waned. The modern, streamlined design and improved drivability make these trucks extremely popular.
This particular truck was born in 1967 however it was customized and rebuilt by Dan Hogan from Thunder Road Specialty Auto Shop out of his Merrimack New Hampshire Shop. I visited this place last June during their open house. They put out some stunning work and I'm pretty sure if I win the Lottery Dan will be getting a phone call from me.
The Chevy C-10 Mystique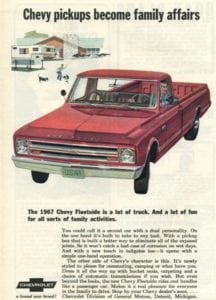 The first Chevrolet pickup truck was introduced in 1924, though in-house designs did not appear until 1930. "C" indicated two-wheel drive and "K" indicated four-wheel drive. The first Chevrolet C Series, was made from 1911 to 1913, but the real current lay-out that we have become so familiar with, and what we identify as a classic "Pick-Up," started with the first Generations from 1960-1966. The big deal with these trucks was the advent of the "Drop Center Ladder Frame" that allowed the cab of the truck to sit lower.
In 1967 the 2nd generation was introduced with a more modern look that is closer to what we currently know and love as the classic c-10 shape. The trucks came with many optional features including but not limited to, a 250 cu inch (later a 292 cu inch) in-line 6 cylinder motor, that is still considered today to be the workhorse/darn near indestructible motor. Additionally, a range of V-8 configurations from 4.6 liter to 6.6 liter motors were optioned as well. GMC even had a few V-6 options.
However in 1967 I suspect this Truck might have had a V-8 and if it was fully optioned it might have had the venerable 327 cu in variety that served Chevy very well
But then Dan got a hold of it.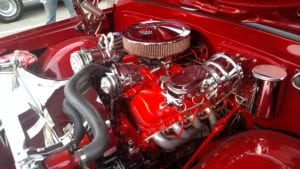 The truck, so the story goes, was Joe's father's that he later inherited. His father had bought it off of a family friend in the early 70's. When his Dad passed away he called up Dan and said he wanted to build the truck.
Dan had many conversations with his friend Joe about what to do with the truck. Many colors were tossed back and forth but Dan persuaded Joe to go with this 2 tone Red and silver combination that looks beautiful.
I Ran into Dan very briefly and snagged my pics of the truck when he attended a Car Show in my hometown of Milford and I gotta say – I fell in love with the truck. Dan added a lot of nice touches. I love everything about it. I love the colors, I love the interior that is done in breathtaking saddle brown leather. I love the wood floor on the bed and how a concealed AM/FM antenna discreetly rises when you turn on the radio. I love how the wheels and tires neatly fit the wheel wells perfectly.
But what I really love is the 502 big block that is so beautifully nestled into the strikingly clean engine bay. Dan very quickly showed me some of these features and he is obviously very proud of this truck. Yup – and for what it's worth? He absolutely should be.