Car Show Car of the Week #4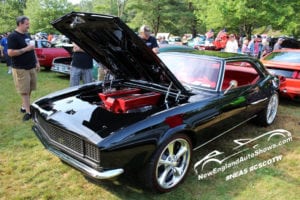 This weeks Car Show Car of the Week is from a TV show. But before all that in 1968 the Camaro was in it's second year of production. It was the time of what many consider to be the "Hey-Day" of the Muscle Car Era. Caroll Shelby was working with Ford because in 1966 when Chevrolet executives introduced the Camaro, automotive press attendees asked the question: "What exactly is a Camaro? The answer: "A small vicious animal that eats Mustangs."
All Joking aside the real explanation of the word Camaro can be found in the "Complete Book of Camaro" the name Camaro was conceived by Chevrolet merchandising manager Bob Lund and General Motors vice president Ed Rollett, while they were reading the book "Heath's French and English Dictionary" by James Boïelle and by de V. Payen-Payne. In the book The Complete Book of Camaro, it states that Mr. Lund and Mr. Rollett found the word camaro in the French-English dictionary as a slang word, to mean friend, pal, or comrade. Thus the word camaro was meant to imply, that the car's name "suggests the comradeship of good friends, as a personal car should be to its owner".
Chevrolet was kinda panicking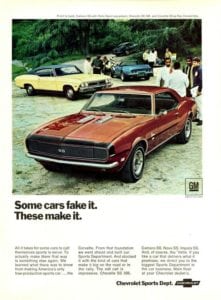 The first-generation Camaro debuted in September 1966, for the 1967 model year, and was made all the way up till 1969 on a new rear-wheel drive GM F-body platform and was available as a two-door coupe or convertible with 2+2 seating, and a choice of 230 cu in (3.8 L), 250 cu in (4.1 L) inline-6 or 302 cu in (4.9 L), 307 cu in (5.0 L), 327 cu in (5.4 L), 350 cu in (5.7 L), and 396 cu in (6.5 L) V8 powerplants. In addition, it was offered in a standard, Super Sport, and Rally Sport editions. In 1967, the Z/28 model was added featuring stripes on the hood and trunk, styled rally road wheels, and a 302 cu in (4.9 L) V8 engine.
Many argue the Camaro was made as a result of a bit of Panic from GM executives with the runaway success of the Ford Mustang, On top of that, GM executives, specifically in the Chevrolet division, realized that their compact sporty car, the Corvair, would not be able to generate the sales volume of the Mustang due to its rear-engine design. In addition, the declining sales, as a result of the negative publicity from Ralph Nader's book, "Unsafe at Any Speed." certainly were not helping matters, or any of the executives heart conditions.
In response, the Camaro was touted as having the same conventional rear-drive, front-engine configuration as the Mustang and Chevy II Nova. In addition, the Camaro was designed to fit a variety of power plants in the engine bay. The first-generation Camaro lasted until the 1969 model year and would eventually inspire the design of the new retro fifth-generation Camaro.
Enter Kindig-It Design
If you watch the Velocity Network you know that when it comes to high-end hot rods, serious Pro Touring muscle cars, and some of the coolest yet most "Bitchin Rides" (See what I did there?) around, Kindig-It Design in Salt Lake City, Utah, ranks among the top builders.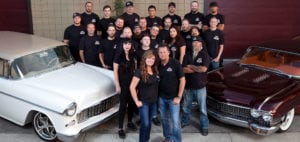 Dave Kindig with his wife's blessing, took the plunge to start his own business building and restoring Cars. You see, the thought of opening a custom shop was deeply seeded in Dave Kindig's mind for a long time. He had been working out of his garage on various projects for family and friends, and wanted to take his passion for building custom vehicles further and turn it into a full-time job. With his wife's blessing and just six weeks after the couple's youngest child, was born, Dave quit his job, and plunged head first into his business and in what to other seemed no time at all, (Nerve racking to him and his wife I'm sure.) he became known as the go to place for custom vehicles.
I have to confess my first time watching the show? I hated it…. But then I really started to watch it anyway because, well, I'm a car guy – and I thought I would be able to pick it apart. But I couldn't do it. Dave does many things that I think are right: He does amazing work himself, and he has surrounded himself with a more than capable team that you can tell he supports almost, unconditionally. Kevin Schiele AKA "Kevdog" may feel differently on that The show eventually became one of my favorites because it's more foussed on the car and less of the "Drama" that other reality shows seem to try in stick out at us. Coupled with Dave's Ideas, the results on TV is some of the best work that I initially thought in the back of my critical mind was: "Yeah it looks good on Camera But what about real life?"
The Car In Real Life….. Is Breathtaking…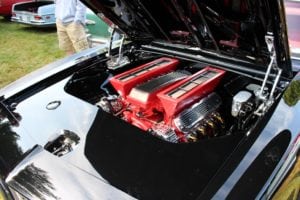 SO Finally let's talk about this Car! So – Last summer I'm at the "Show and Shine" Car show at our Local Budweiser plant in Merrimack New Hampshire. well over 600+ cars in attendance including my poor excuse of a Corvette. I went with a few of my buddies who I think may have been getting annoyed with the fact that I was pretty much taking pictures of every single car in attendance. In the Back area, kind of separated but not easy to discern at first, was this 1968 Camaro that was done over by Dave and his team.
As I got closer I soon realized that every single accolade Given to Dave and his shop? Yeah, let's just say: they deserve every single one of them. Every choice made to improve this car, was perfection. I have always loved the lines and every aspect of the first generation F bodied Camaro, And then Dave Kindig took pen to paper and imagined this work of art on the canvas that was a 1968 Camaro.
Dave and his Team took this Car and fitted a GM Performance LSX 454 with a custom built Harrop Intake backed by a 6 Speed Tremec Transmission generating 635 WHP. The paint is Mercedes Black and if I'm not Mistaken, is one of Dave's Favorite Colors. Kindig-it makes their own Smooth Door Handle Kits and they are fitted to the doors.. Emblems are Gone. A look I sometimes disagree with but it just works on this beast.
Everything has been smoothed out, from the marker lights to the hand-built and rolled trim, The windows are flushed from the trim and with gutter removal . The firewall is custom, as well as the the front valance, and a custom hood for the air filter. Everything on this Car if saw through the eyes of GM executives in 1968 would have blown them all away as it did to me when I saw this work of art in person.
This is why it is our Car Show Car of the Week.