Read These Articles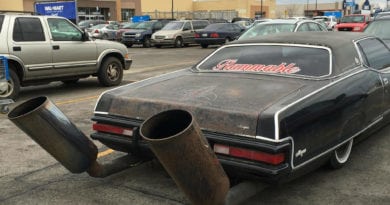 I recently attended a Carshow/Cruise-In and I heard the following statement: "Stupid Tuner Cars! Who the hell lets them in!"
Our Facebook Feed
newenglandautoshows.com
7 hours ago
Hey All,
As of today, I have just over 190 Annual
#CarShows
located throughout New England with confirmed dates on the Calendar. I'm getting e-mails via our contact page almost every single day with news and attached flyers for the upcoming season. I'm staying up Late doing google searches to confirm event dates.
There are those who would say: "Joel, That number seems really low... I guess you are not doing so well huh?" I "agree" and "disagree" at the same time.
Thus far the 2019 calendar is missing a lot of the Weekly Cruises - and that is only because those events have not officially posted their official 2019 start dates. YET...
I'm watching for those dates... My Goal is to make sure that NewEngland AutoShows.com has "Accurate" information to the best of my ability. I strive to have "confirmed contact information" and/or "website," or even a corresponding facebook page, to link back too for you to be able to see updates from those shows that you are interested in attending.
So if you look at my Calendar and do not see your favorite Car Show or event, or if you run one of those events and it is not on my page, that is because I have yet to hear from you, or have seen on your site that has a confirmed 2019 date for an annual, or 2019 Start dated for a weekly or recurring event. Or put simply...I don't know about your event.
I'm pretty much doing all of this Voluntarily on my own... I'm not complaining, Cause already I have surpassed where I thought I would be this early in the year. But I am only "One Guy" and If I miss a show...I do Kick Myself... I did NOT have every show last year... And it still pisses me off.... 😉
Thanks, everyone for your support and continued use of my page. Make sure to share the website, the facebook page, the facebook group page, and even follow us on twitter at
@NEASWebGuy
... And make sure to tell the Show Runners you saw their event on
#NEAS
!