Fuddruckers Cruise Night in Saugus Massachusetts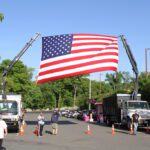 The American flag flew high above the entrance of the Fuddruckers Cruise Night in Saugus Massachusetts as part of a special "Salute to Service" cruise.
It's not always about the cars. Sure, they're the main reason that we all get together, but sometimes car shows are held to raise funds for charitable causes or to honor a person, or a group. Thus the organizers of the Fuddruckers cruise night held a cruise night honoring the men and women who have served this country.
The Saugus High Chorus opened the show with the National Anthem followed by an appearance by the Beverly ROTC Color Guard.
A Rolling Memorial Wall
Of course, there were a number of hot rods and specialty cars on hand, but our first standout of the show had to be William & Suzanne Sheridan's Ford F-150 pickup.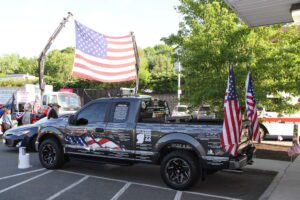 Known as the 'Til Valhalla Heroes Truck', the mission of this F-150 is not to smoke tires and win trophies. This truck serves as a reminder that battle isn't over for many soldiers once they return home.
According to the website www.22toomany.com, approximately 20 current and former service members take their own lives on a daily basis, that's an unimaginable amount of deaths that didn't need to happen, not to mention the lives of families that are ruined as a result. Personally, I never would have thought that number was that high, which proves that Sheridan's rolling memorial is doing its job and spreading awareness.
The Til Valhalla Project Truck can be seen at car shows and events around Massachusetts. William and Suzanne are looking for sponsors and donations to help them travel further and get the word out. You can search them out on Facebook, or email them at tilvalhallatruck@gmail.com to find out more.
The Wild Willies
With a short production run (195-1955), the Aero Willys isn't one of the most common antique cars on the road. So – what do you do if you happen to find one? Well…chop the top and stuff a massive Hemi engine in it of course!
From the suicide doors with recessed Kindig-It door handles to the beautifully detailed engine compartment, this is truly a "Wild Willies" as the artwork on the trunk suggests.
NASCAR Daily Driver
It may not be polished with shiny paint and an engine that you can eat off of, but this has to be one of my favorite cruise night rides this season. Why? Because it's ridiculous and perfect all in one.
We've all seen our share of NASCAR tribute cars. Even Chevy got in on the action with the 2022 Dale Earnhardt edition Monte Carlo SS. But this -ah hum- Chevy Lumina isn't that. These aren't store-bought stickers and a 'PepBoys special' mesh grille. We are talking about the real-deal Busch Series race car that has been modified to run on the street. Modern amenities include door mirrors, headlights, turn signals, and Kilmat insulation to keep your feet cool(er). Basically, all that you really need.
Check out Gifted Garage on youtube to learn more about the car and check out videos from this cruise night. Oh, yeah, and subscribe while you are there. Anyone who'll strap himself into a Nascar chassis and roll straight onto Route 1 deserves a follow.
Gifted Garage Link to Video https://www.youtube.com/watch?v=TsMrg42OMDY&t=16s
Fuddruckers Cruise Night is a Great Show
Special thanks to the people who serve and the veterans who have served. Also, thanks to the people who are trying to help make their lives better. It's great that the organizers of the Fuddruckers cruise night For honoring our Veterans.