The New Hampshire Corvair Club Spring Dust-Off
The New Hampshire Corvair Club recently held their Annual New England Spring Dust-off at the Davisville Flea Market grounds in Warner NH.
Spring Dust-Off is a great name for a first show of the year, although this year it also served as a 'Covid Dust-Off' for the NHCC, because like everything else the club meetup had been officially canceled for the last two years. Thankfully things have been calming down and the car show season as a whole seems off to a good start.
It certainly wasn't the largest car show I've ever been to, we only counted 8 cars and one really cool Greenbrier van (more on that later), this number is down from the usual attendance, which according to NH Corvair Club Co-President Ginny Blackmer is around 30 cars. Blackmer cited Covid concerns as well as soaring gas prices as possible reasons for the lower attendance, both very valid concerns.
Small Show, Big Fans
I'm not a Corvair owner, I just happened to catch the listing on the New England Auto Show calendar and figured since it was a beautiful day and the show was nearby I'd pop in and check it out. I also dragged the boys along with me, as growing car enthusiasts I want them to experience cars beyond the usual muscle cars, imports, or even supercars that dominate social media channels.
I was always aware of the Corvair, and of course, every car enthusiast has heard the saga of Ralph Nader, but to be honest I never really thought much about them other than the fact that they were somewhat different and pretty good-looking. Even though it was a smaller show we did learn a few things thanks to the enthusiastic owners who were more than happy to chat about their cars and the Corvair in general.
Not only are they knowledgeable, but Corvair owners, at least in this neck of the woods, are some of the friendliest car enthusiasts I've ever encountered. Mrs. Blackmer even invited my son to sit in the driver's seat of her own 1966 Corvair Corsa Coupe to get a feel for it.
Interestingly, I've met a few Tesla owners at the local cruise nights who are equally knowledgeable and inviting. It's probably no coincidence because like the Corvair, Tesla cars were ahead of their time and were somewhat misunderstood in the beginning. Tesla and Elon Musk are also the current targets of Ralph Nader on Twitter, so it all comes full circle.
GM Firsts
Back in the day, the Corvair was ahead of its time, or at least more advanced than anything on the road at the time. Not only was the Corvair GM's first compact car, but it also featured an aluminum flat-six engine and to this day remains the only American-designed, mass-produced passenger car with a rear-mounted, air-cooled engine.
It was also one of the first production vehicles to offer a turbocharger, the Oldsmobile Jetfire being the first.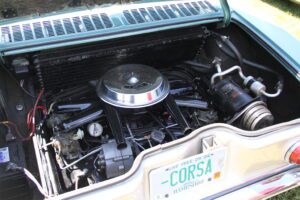 The Corvair was also GM and Fisher Body's first unibody car and It must have looked dramatically out of place when it started arriving on dealer lots in 1959 at the peak of the jet age.
It's funny, while the rest of the GM lineup was covered in endless chrome and featured wing-inspired styling cues and large tail fins to appear futuristic, here came the humble little Corvair, a car that actually was futuristic.
Many Styles
The Corvair was offered in many body styles including 2-door coupe, convertible, 4-door sedan, station wagon, pickup truck, commercial van, and of course the passenger van.
I don't think I've ever seen a Corvair wagon in person and you rarely see the vans, the only time I see them is for sale on craigslist and when they do pop up, they're usually rotted out after sitting for decades.
Thankfully this isn't the case for this 1965 Corvair Greenbrier van which, according to the owner Tim Sattler, is a mostly original, unrestored survivor.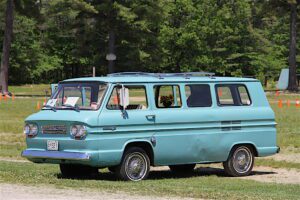 Being one of only 1,528 Greenbrier vans built-in 1965, this example spent its early life hauling summer guests around a resort in the Lakes Region of New Hampshire. Thus, avoiding the harsh New England winters and salty roads that have been the kiss of death for countless vehicles.
Some of the fancier factory options on this van include a larger engine paired with an automatic transmission, chrome bumpers, a roof rack, and of course a picnic table, an option that some company needs to bring back…I'm talking to you VW I.D Buzz.
It's hard to be unique in a show full of unique vehicles, but this van pulls it off.
A Great Time
I'm glad I stopped by the NHCC's Annual Spring Dust-off, sure it wasn't a big show, but in a way, it's refreshing to be able to take my time, check out each car and talk to some owners. Plus, the Corvair is now on my list of cars to 'dream shop' on Facebook Marketplace.
Perhaps, if you find yourself in a rut going to the same old shows you can check out the NEAS Big List and/or calendar and find an event near you, you never know what might pop up in your area. Check out some more photos of the event below: