The "Bullit" Mustang Sold at Auction for: 3.4 Million!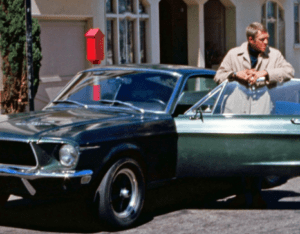 Hands down if you ask an aficionado of mustangs what the most favorite Mustang that was ever made was? It's probably a 1968 Mustang fastback.
The Quintessential particular 1968 Mustang fastback that every Mustang lover's pulse begins racing from is Steve McQueen's Mustang from the movie Bullit.
A little History
2 S-code Highland Green Mustang fastbacks, with sequential vehicle identification numbers, were used in the filming of the movie.
Chassis 8R02S125558 was modified for use as the stunt car and sold as scrap after filming was completed, while its twin, chassis 8R02S125559, was selected as the hero car and used primarily for close-ups was bought by a Warner Brothers employee and it changed hands a few times.
Both received chassis reinforcements, heavy-duty front springs, Koni shocks, and a thicker anti-roll bar. And while many would argue the already powerful 390 V-8 did not need any modification they both were anyway and each gained machined heads, larger four-barrel carburetors and a beefier ignition for added performance.
The Announcement of Sale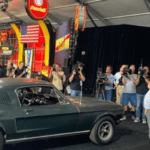 Dana Mecum announced the Bullitt Mustang's upcoming sale, alongside Sean Kiernan the then owner, at the firm's Monterey auction. No pre-auction estimate was announced at the time though but many speculated it would garner a lot of interest.
And Sold it Did!
The Car finally went up for sale at the Mecum today and became the most expensive mustang to ever cross the Mecum Auction Block at 3.4 MILLION dollars! (Insert pinky into lips and laugh like Doctor Evil.
The Car is unrestored and certainly is not fully looking exactly what it looked like on the Movie. It's accumulated over 40k miles and is only partially restored in that the engine was cleaned up and painted. Should it stay as is? Well, that's up to the lucky new owner I suppose.