Last Year my wife and I went to a Topless Jeep Day Event in Ossipee NH. We had a fantastic time and this year we wanted to make it a family adventure. While we had a Fantastic Time in Ossipee I wanted to add a bit of variety and go to a different destination. And this year I decided we would attend MVP Jeeps & 4×4's event at New Englands PlayGround at 508Intl in Charlton MA. So – we loaded up my Jeep and my Daughter's Jeep and headed on down to have some fun.
New Englands PlayGround
508Intl is literally a big dirt playground that can accommodate tons of diverse sports and events. 22 acres of Trails and Dirt race track to accommodate Dirt Motorcycles, Jeeps, and everything in between. The Tracks are beautifully groomed. And were Open for us Jeepers to use on this special day that allowed the less initiated to have some fun
Trails at all Levels
The venue has an array of trails at all levels from Stock to Built. We did the beginner Yellow Track and found it to be quite challenging even for the initiated. The Trail proved my Jeep needs more work to support my Large Tires. But also proved that Even my Daughter's "Stock Jeep" is more than capable on a trail.
Clubs
An array of Jeep clubs were in attendance and My Daughter and wife spoke to a few members of the LadyJeepers. They had a beautiful 4-door Jeep on Display and were wonderfully welcoming to my Wife and Daughter. Their website is awesome and filled with information for all LadyJeepers of all ages. The Jeep Enthusiest scene and the automotive enthusiast scene each need more Women to feel empowered and welcomed in both those scenes. LadyDriven for the Automotive scene, and LadyJeepers, are filling that void and supporting each other and their respective scenes. Check out LadyJeepers.com for more info.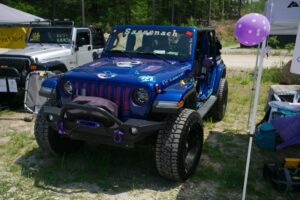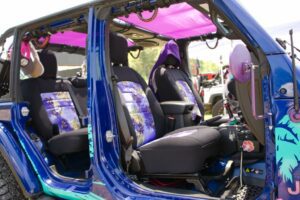 We Got Dirty
Unfortunately, I don't have a lot of photos. Part of participating in the trails and rides it's hard to take photos and participate at the same time. We eventually found our way to the mud pit and my Daughter made an absolute mess of her Jeep. My Jeep got filthy as well but I was worried my Cameras were gonna get soaked and muddy and cameras and mud just do not mix well.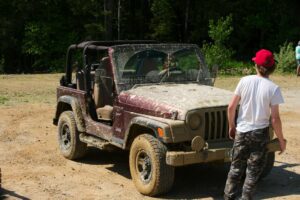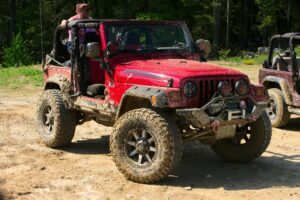 But – Check out our Jeeps and the many others we saw in the gallery below