Despite The Rain A Healthy Turn Out
Despite the Rain, I decided on a whim to attend The 6th Annual Brandon Masterson Car Show held at the Nashua Community College in Nashua New Hampshire. My Thought-process was possibly coming up with ideas on an article on "What to Do if it Rains you Car Show out. Well, I still don't know because Tuner Guys are Die-Hards and they show up!
The show is in it's 6th Year and it a memorial to Brandon Masterson. Which I suppose begs the question:
Who Is Brandon Masterson?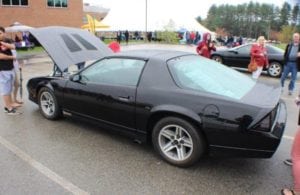 Brandon Masterson started in Nashua Community Automotive Technology Program in 2011 and was one of 3 students selected to represent Nashua Community College's (NCC) auto program at the regional SKILLSUSA competition in 2013. Unfortunately, just before the event, he was in a serious car wreck and passed away. Brandon participated in NCC's Autocross Club and always spoke about his grandfather and how they worked on cars together. Brandon looked forward to working on his grandfather's IROC which has been fully restored with a big block Chevy motor.

About This Show
This car show raises money for an automotive scholarship in Brandon's name. In 2013, when Brandon passed, a friend had a fundraiser for Brandon's expenses, but his father decided to put the funds toward a scholarship in Brandon's name for students of the Nashua Community College Automotive Technology Program. The Brandon Masterson Automotive Technology Tool Scholarship was created in his honor. The scholarship is an award up to $700.00 for the cost of tools and is awarded to two students each Fall semester. A total of $2,800 was given to four students since the Fall of 2015 in scholarship money for tools.
It was Wet
I showed up with My Civic. Of course, I haven't really done anything to it yet so I was not sure I was show worthy but I figured I would park amongst the cars in case if it really down-poured, I could take shelter. When I showed up at about 1:15 not many were there… And then instead of a flood of water from the rain, a Flood of Tuner Cars started to show up.
Cool BMW
I met a really nice guy (Kyle? I think. My Notebook got wet.) who was debuting his BMW (E24) 635csi at the Show. I Gotta say I have always had a soft spot for BMWs because when I was a Kid My Dad had a BMW 2002. The owner of this 635 had just picked it up and he had told me he found it off of facebook. Back in the 80's this Car in Champagne color was the Hero Car for Bruce Willis and Cybil Shepard in the TV series Moonlighting and frequently was used in Car Chases. When I was in 6th Grade I drew a BMW 635 as an art Project so I love this Car.
The Car needs a little bit of work but even in its current state, it was to me a breathtaking example of (In MY Opinion) one of the best looking and iconic BMW's ever produced. You can look at this car from any angle and know that not only is it a BMW, but also that it is beautiful with its classic lines that are still present on even the most recent BMW offerings.
Had to leave
I wanted to stay Longer but I got a call and unfortunately had to depart rather quickly. I'm looking forward to next years show!
Check out the other cars and sights that I saw below!