This past Sunday I was able to get my Teenage son to wake up a bit early to drive down to Medford Mass. Right around the corner from the "Squ-Ayer" (That's Square with a Mass Accent.) Clippership drive along the Mystic River was closed off to accommodate the Park4Parks Car Show. We could not stay long as I had to get back to get my wife on a jet plane.
Park4Parks is a family event car show to help benefit the Krystle Campbell Playground in Medford. Organized by Crowley's Concepts, There was Food and Business Vendors, presentations and awards, special Guest Appearance by the Mayor of Medford herself, Raffles and more.
Mystic Coffee Roasters!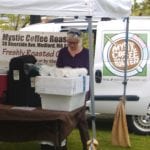 The Best Coffee in Medford was also served by Medford's own Mystic Coffee Roasters…. (I am Contractually required to say it's the best Coffee not only because it's the only coffee I drink, but because the business is owned and run by none other than my Sister.) She set up to serve coffee that was brewed with freshly roasted coffee beans at her store one block over on Riverside Ave. It really is good coffee because full disclosure: I hate every other coffee and for whatever reason, I can tolerate Coffee brewed from the bean that is imported by my sister. So If you're near the "Squ-Ayer" check out her shop that's across the street from the T-Bus Stop.
Is that MOM? Oh its Mustangs Of Massachusetts
My son and I walked around to check out what had pulled in. and what we were struck with was the sheer volume of Mustangs in Attendance. Many had decals proclaiming the membership in the club and let me tell you, there were some really fine Mustangs in attendance. A standout for me was a Stang that had Scissor doors./ That was pretty cool.
The Sad Story of a Great Car
One Car that stopped me in my tracks was a 1954 Kaiser Darrin. What is that? Yeah, I asked the same. I had to look it up on Wikipedia:
"The Kaiser Darrin, also known as the Kaiser Darrin 161 or in short as the Darrin, was an American sports car designed by Howard "Dutch" Darrin and built by Kaiser Motors for the 1954 model year. The Darrin was conceived as part of a movement in Detroit to compete head-to-head with European roadsters being imported to and sold in the United States in the post–World War II period. Among other products developed were the Ford Thunderbird in its initial two-seat form and Chevrolet Corvette. While the Darrin was designed attractively, it was also underpowered and, while a good performer overall, did not measure up to foreign vehicles such as the Nash-Healey or Triumph TR2. The Darrin's high price tag, lack of consumer confidence in Kaiser's viability and practical challenges with the car's design resulted in low sales, though sports cars at the time were generally not fast sellers."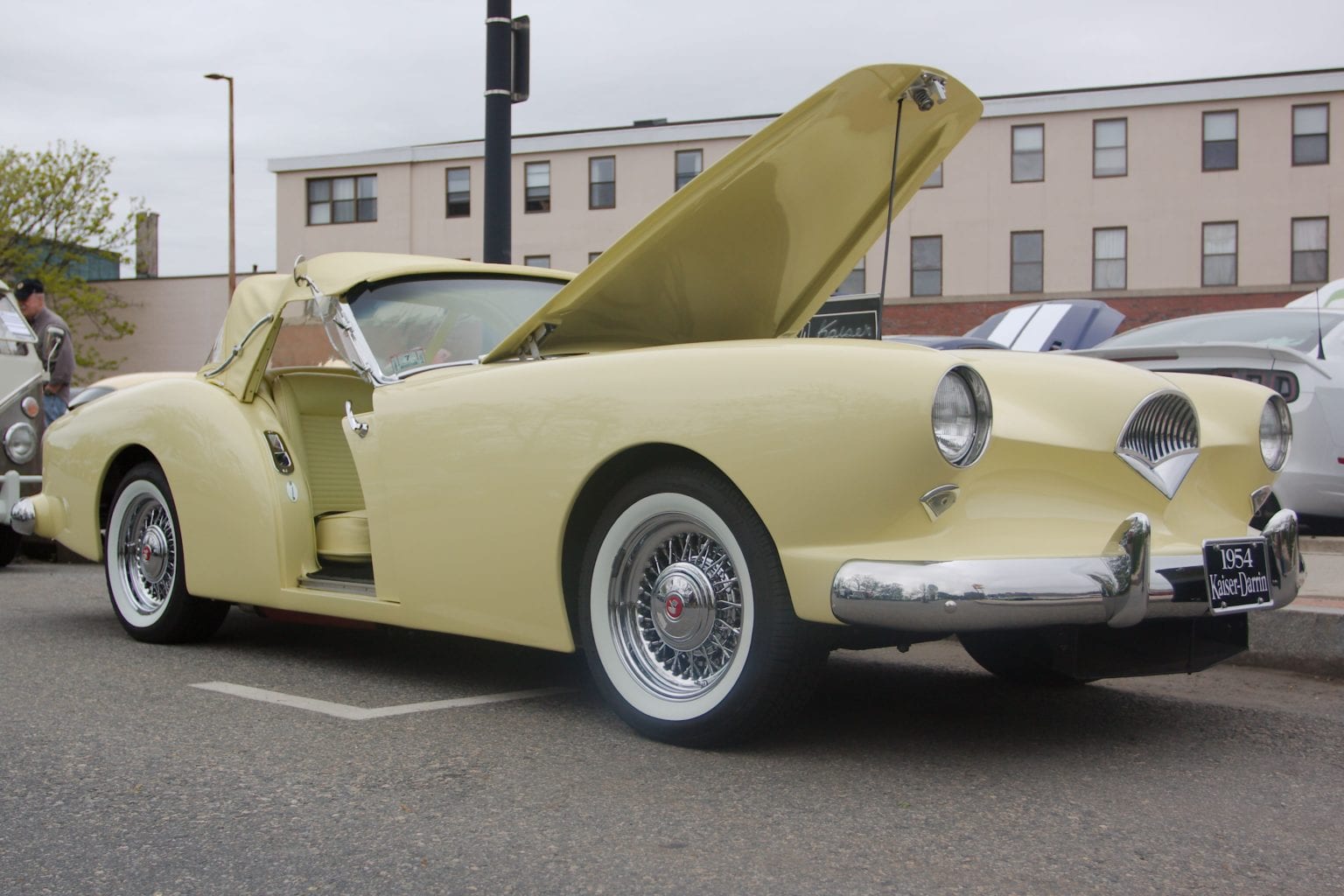 What a sad story for a great looking Car. The swoopy lines on this car and its unique doors was just a wonderful sight to behold. you can read the rest of the sad story here.
Our Other Right No Not Left!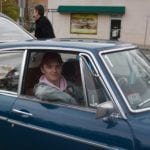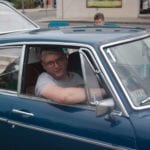 As we neared close to the Entrance we came upon a gentleman who drove in his 1971 MG GT fastback. What a beautiful MG. The owner asked my son if he could drive a stick. My son can in fact drive a stick and informed him so. "Well Go ahead and sit inside and see if you think you could drive this. At this moment my son realized this was a "Right Hand" drive MG. He sat in it and said "Hmmmmm Um… Huh… I would of thought the gear would be in reverse order so I might have issues here."
The car was in beautiful condition even the interior was "in fine nick" as they say across the pond. I was offered a seat in it as well and I gotta say every time I sit and ride in an MG they really are just a fun car that you can't help but have a huge smile on your face. And as proven by the owner of this car, most owners are genuinely nice people.
It never Rains it Pours
I sent my son to say goodbye to his aunt while I was talking to another few C4 Corvette owners. We needed to get back in order to get my wife off to the airport for her business trip. As we were packing up our chairs the Raindrops started to fall… As we got in the car a wall of water came at us. Bummer…
But we managed to see a bunch of really nice cars and met some cool people and of course had some awesome Coffee form Mystic Coffe Roasters don't forget to check them out. Oh and order some bean from their website.
Check out the Gallery below of the other vehicles we saw: