As the name suggests, the Bow Rotary Car Show is a yearly car show organized by the Bow Rotary Club with proceeds going to local charities.
I've never attended this one in the past. And initially, my weekend was packed solid, so I originally decided to skip it this year. But, despite my busy day I decided at the last minute to stop by and check it out.
Be Pre-Prepared (Those Boy Scouts might be onto something)
I usually try to be a bit more prepared when I attend a car show. Unfortunately, that wasn't the case with the Bow Rotary Car Show.
My first mistake was once I got to the entry point, I realized that I had no cash on hand for the $3.00 entry fee, oh yeah, It's a charity event – duh.
My second mistake was no juice in the camera batteries. It turns out that digital cameras need electricity to work. Fortunately, I had my phone on hand as a backup. Unfortunately, I had to use my phone to take some pictures.
Lastly, I underestimated the weather. I've been complaining about the weather for months now, so be careful what you wish for. I knew it would be warm, but I wasn't expecting the temperatures to reach almost 90 degrees. It wouldn't have been so bad, but I was toting the kids with me, and kids like drinks and shade on hot days, who knew.
Despite my lousy planning and limited time, I did manage to get a few shots, maybe not enough to do this car show justice, but I tried to cover some of the different cars on hand.
Until Next time
Even though I rushed through, there was a lot to like at the Bow Rotary Car Show. I'll be back next year with more time and full camera batteries, but until then here are a few Standouts from this year's show.
The Standouts
I've been trying to sell a family member on painting their 1952 Chevy dark blue with a red interior. It's a color combo that I've always liked, so naturally, I was drawn to Terry Cramer's 1931 Ford Roadster. Besides the color combo, the look of this hot rod with its steel wheels and wide whitewalls is timeless.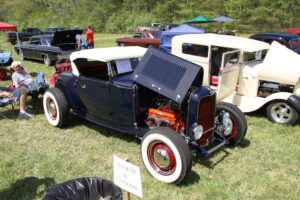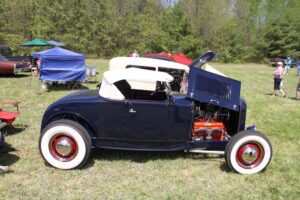 I've always been a fan of old commercial vehicles and this mid 50's Ford F-750 fire truck from York Beach Maine, fits the bill. I love the patina and look, it even has factory air conditioning!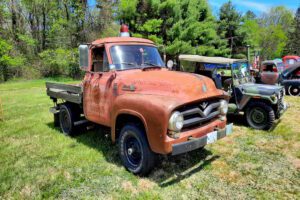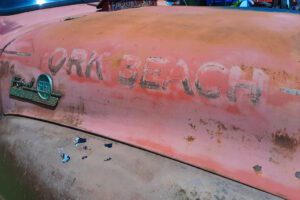 Check out the rest of the cars from this show in the gallery below: