Meet New England – A Meet Worth Driving To
Meet New England has been going on for a few years now and it literally has been a Unicorn event for me to get to. (More on the Unicorns later.) Sundays are usually filled with other events as well and for whatever reason, I was going to those other Annual events rather than hitting this weekly event.
A Meet worth Driving To
Their tagline is "A meet Worth Driving To" and you know what? They are right! And I'm not just saying that because there are pretty women there. (More on that later.) There is just a general "vibe of Goodness" that I honestly cannot explain and if I'm honest I'm OK with the mystery. BTZ and The Stark Brewery teamed up to create this event.
Based on his about page for their website, BTZ had gone to a bunch of Car Meets and Car Shows and Cruises and just felt he could do it better. He has a great venue, He has a great team helping him out including his wife, And he has somehow generated a great family-friendly atmosphere that has activities for the kids to do as well as the adults. Giant blocks an RC car track, and Cornhole under the shade of Bridge Street above.
A Little bit of everything
As I rolled in I gave my 20 bucks and I had hoped maybe I could squeeze into the VIP parking I had heard about. No such luck as it was my own fault I did not preregister. My fault, not theirs. So I was directed to a park by folks who helped back me into my spot.
As I was getting my Camera ready to Shoot the Cars I saw some familiar faces. Including a few folks that I had met up at the York Auto Show Event up in Maine. Smiles and Laughter were everywhere I looked. Cars Continued to Roll in.
And there were some beautiful and Interesting Cars
Taste The Rainbow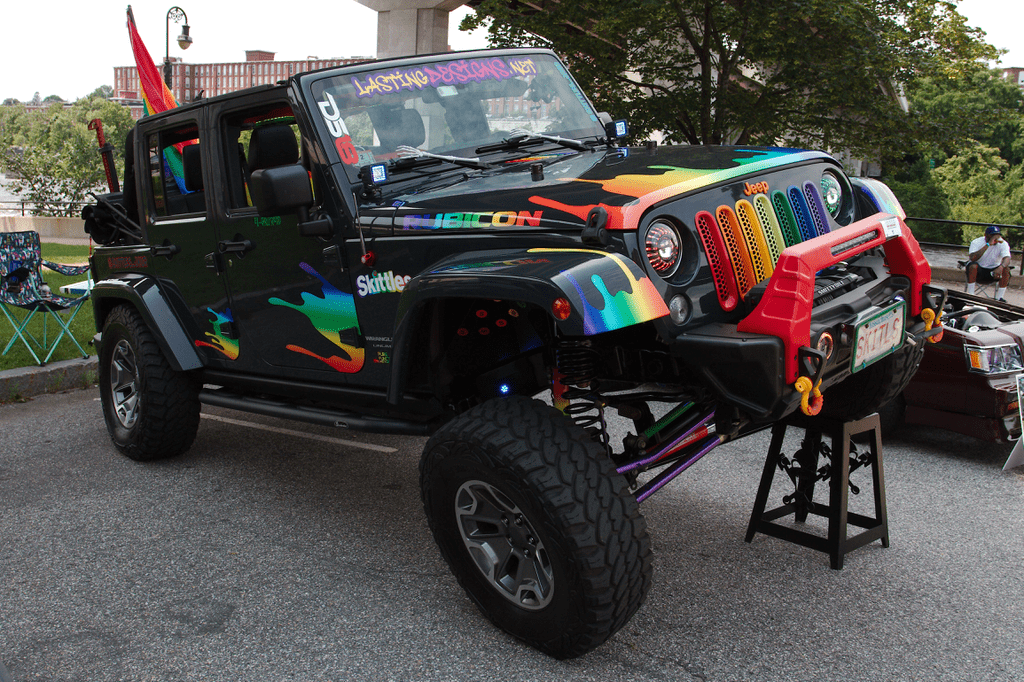 A 2018 4-door Jeep Wrangler was propped up and owned by a woman named Melanie. Colorful in a "Skittles Theme" I met Erik from Lasting Designs, first who helped with many of the cool touches on Melanie's Jeep. I spoke about my own Jeep that was parked at my house and how I had named it after "Winston The Ogre" from the movie "Time Bandits."
He then told me to introduce myself to Melanie who was talking to a few folks down the way and tell her to show me her Left arm Tattoo. There on her arm was the Supreme Being and Evil Genius. I told her of my Jeep and she showed me the many more features of hers. She got 2nd place for people's Choice and it was well deserved as it's a great Jeep the kids got treats from her.
A Great Jeep being shown by Great people… I love that!
Help Me Obie-Won-Kenobi Your Our Only Hope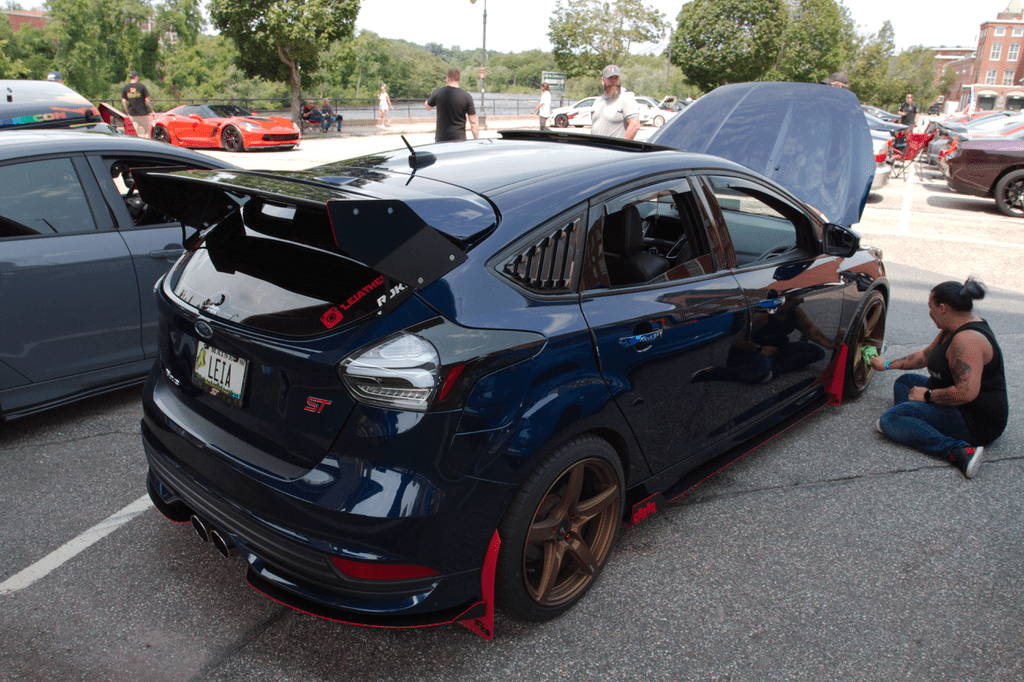 When I went to the show at York, my wife and I ran into Robin as she was diligently polishing her Ford Focus ST. It is in a Princess Leia theme and the more you look at it the more things you find. From the custom interior details that she proclaimed "Yes there were tears, and yes I had glue up to my elbows." But what an amazing touch.
After I took pictures of the Cars and Models (Yes Models I'll get there eventually.) I ended up sitting with them under the shade and we all talked about the Cars, ideas for future mods, and then we totally geeked out on Star Wars and the sows currently airing on Disney+…
A Great Car being shown by A great Family…
Yes, there is a Calendar Model Search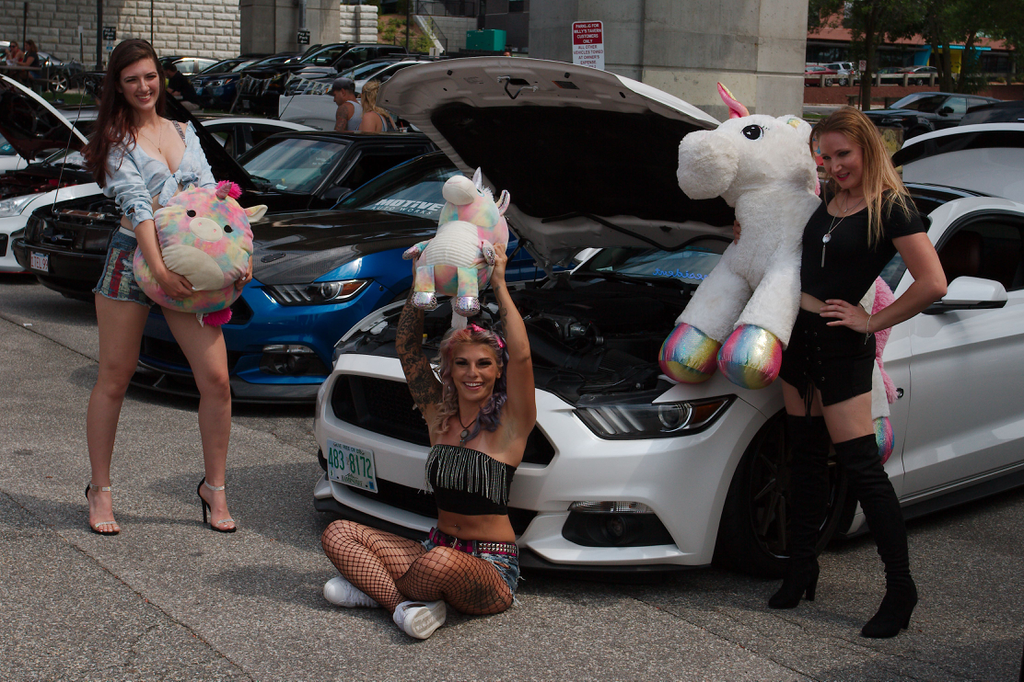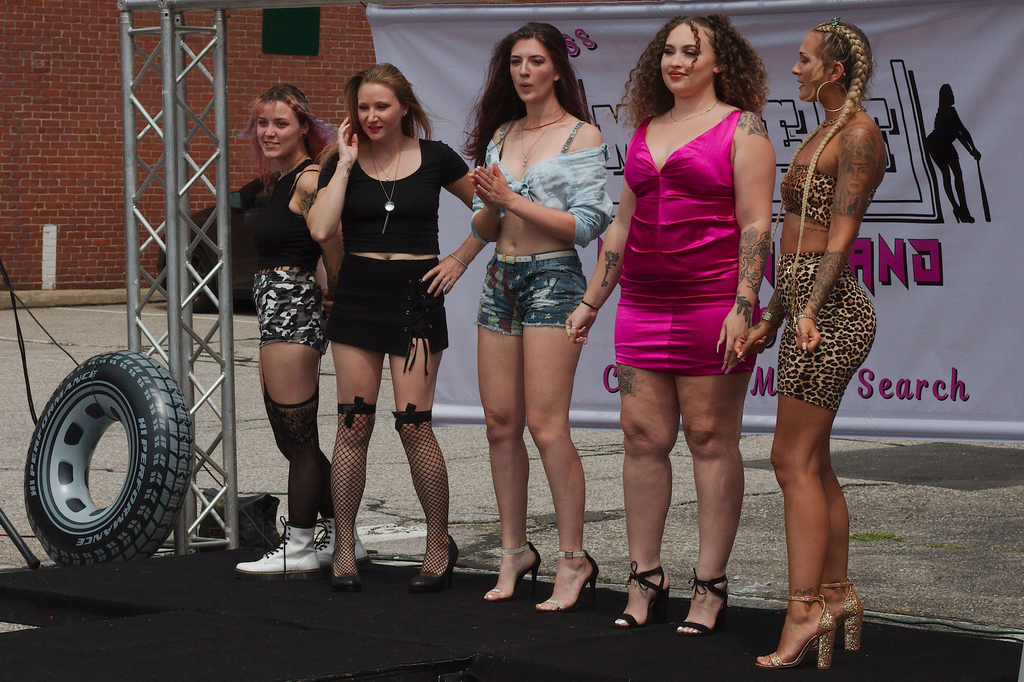 I'm gonna focus the majority of this article on the Car Aspect of the Show. Yes, there was a Model competition, Yes they were walking around and posing with all the VIP cars. Yes they are all fierce and Beautiful. Click on this link for more details and photos about my experience shooting something different than cars...
I feel that experience warrants its own article as it was a completely new experience that was a bit out of my comfort zone as an novice photographer who happens to have a Blog about Car Shows. The highlight was the look of the absolute joy of Karina, Kae, and Chantal, holding stuffed Unicorns. The laughter truly became infectious
It really is Worth Driving to
Seriously it really is. I'm not kidding. I was not planning on staying for the entire meet… Stayed for the entire meet… I was expecting to have a good time… I was not expecting to have a "Great Time" I was not expecting the diversity of not only people, Which was awesome by the way but also the Diversity of Vehicles
Check Out what we saw on the gallery below: