The New England International Auto Show for 2020
It's become a tradition for us to visit the New England International Auto Show as we did in both 2018 and 2019. So why should the 2020 show be any different? Well, it was this year. And to be honest, it's one of the reasons why it took me so long to write this article and I apologize for that
No Family – New Angle – What Angle?
Normally, I have the bulk of my family with me in order to get their reactions to what we see at the show. Both a younger perspective from my kids and the opinions of my wife as well. With none of them around, I walked around the show trying to formulate what my thoughts were on certain vehicles and what my opinions are of what was being shown. Since I am more of a "Classic Car Guy" this was hard for me to do. But I digress:
The North Remembers!
Winter has come, and Jeep decided it was high time to recognize winter and their specializations in 4×4 SUVs now have a "North Edition." All 6 models can be packaged and badged with this special edition Jeep that is specifically catered for what jeep feels able to tackle the roughest of winter conditions. And thus, decided what better place to unveil but in New England.
The "North Editions" come specially packaged with your choice of all-terrain or all-season tires for severe snow conditions. That does not sound like much of a big deal but when Jeep than throws in Heated Seats and steering wheel, Remote Start, All-weather floor mats, and heated mirrors, you kind of get the Package. Let's be honest, with the top off of your Wrangler in early spring, or late fall, you realize the experience can definitely be enhanced with heated seats and Heated steering wheel right?
But that's not all, special enhanced Tow Hooks for you to pull your friends out of snowbanks and ditches and a Jeep Trail rated kit that includes tow strap, D-rings, carabiner, gloves, and safety kit.
We like'em Wide.
Dodge showed up with Wide Body Editions of The Charger, and Challenger. They are wider, they are heavier but they are more powerful than ever. These machines are stunningly gorgeous and to my mind, the most beautiful version thus yet created by Dodge.
Essentially the 392 Scat Pack derived vehicles come with the 6.4 liters 485 horsepower non-supercharged menaces. (Menaces in a good way.) These engines will still tantalize your eardrums with that low exhaust note us gear-heads know and love. And while yeah, everyone loves a 717 horsepower of the hellcat the scat pack puts better suspension to all four corners. I sat behind the wheel and I really fell in love with these vehicles.
Chevrolet's Wiggle in the Middle
While Sir Mix-a-Lot loves big buns, Chevrolet tantalized our eyes with the New Corvette C8 that has the venerable 6.2 liter 490 horsepower engine wiggling instead of the front, but in the middle, as the new Mid-engine designed American Supercar.
Chevrolet had the new Stingray decked out in Red with a Black interior that we, unfortunately, could only look at from afar. Hidden door latches and hood and hatch releases have been removed for a smooth appearance, and that 490 horses can be seen through the rear window that now sits behind the driver. I have often theorized that while Many may romanticly say that this new Corvette is finally the Corvette that Zora Arkus-Duntov envisioned in the '60s, I think this is a move toward the future.
And that Future is Hybrid Electric. That in my opinion, will be Chevy's big "FU" to Acura and the many other Exotics that have Hybrid-Electric technologies launching their machines in the sub-3-second zero-60 times.
Toyota and Nissan honor a bit of History
I was able to look at two machines that stuck out for me a bit in their beauty. The 2020 GR Supra in a bright yellow did not disappoint in its looks. the car promises some nice performance. Base 3.0 editions start at $49,990 and 3.0 premium and Launch editions go for $53,990 and $55,250 consecutively. While it's a bit disappointing the Supra is an 8-speed automatic, it is impressive that the 339 horses can let the machine go 0-60 in 4.1 seconds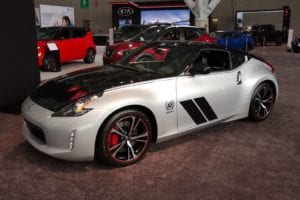 Nissan had on hand a beautiful black and grey 50th-anniversary edition of the 370z. What I love about this car is not only it's the traditional-looking interior that harkens just a bit to its 240z roots, with the 3 gauge cluster in the middle, but you can also get this machine in either a Standard or an optional automatic transmission. Both of these options send power to the rear through the use of a limited-slip differential.
The commemorative Z also wears a special set of 19-inch wheels with red accents wrapped in Bridgestone Potenza S007 tires. Additionally, the 50th Anniversary Edition package consists of a two-tone paint scheme that is available in either white with red accents or as pictured silver with black accents. It is said that these accents are inspired by the original 1970 BRE 240Z.
The return of Cadilac to NEIAS and The Car I'm not allowed to Get…
My wife and I agree on many things. but one thing we disagree on is Cadilac. She is not a fan. I conjecture her opinion is based on the very underpowered and huge 1982 Sedan Deville behemoth I drove when we first dated. But alas she always says: "Cadillacs are driven by old people…"
I beg to differ. I dare say if she was with me and actually sat in the new Cadilac CT5-V that is powered by a venerable 3-liter Twin-Turbo V-6 with 355 horses, she might change her mind. All the new Cadilac V-Series performance technologies include Magnetic Ride Control. The System is tuned specifically for V models to enhance comfort without sacrificing performance-oriented responsiveness. Additionally, each has drive modes that include new V-Mode personalization. Each model is available in RWD or AWD and features a 10-speed automatic transmission, Brembo front brakes with eBoost electronic assist and electronic limited-slip differential on CT5-V.
Interesting but not all-together exciting
I gotta say many of the other automakers in attendance did not "wow me" so much with what hey brought to display. The Mustang Mach-E SUV is in my mind a horrible ploy by Ford to entice buyers merely with a "name" in a not very attractive package… The accents that work so well on a Mustang GT just "don't do it" for me on an SUV. It's as if it's being used to hide the "cheese" of an uninspiring albeit practical genre of vehicle known as the SUV. I just could not get excited over it.
I spoke to a lot of attendees and some echoed the show is not what it once was. That's disappointing for me to hear but not altogether surprising for me to hear. Many complained of the lack of representation from Audi, Porsche, and the other big Germans known as BMW and Mercedes. However, I dare say it is us the consumers who are to blame as we utilize internet technologies from the comfort of our own home. Thus, it is my opinion that many of the automakers may not be seeing the benefit of the pressure-free environment for consumers to touch, smell, and look at the new models introduced each year at these types of shows.
Check out all the other machines I saw. Machines not only from the auto manufactures in attendance but also the SCCA auto club and the Muscle Car exhibit curated by the head of "The Boston Cup's" own Rich Duccette…
---