Bass Pro Shops Cruise Night = WOW
People have been telling me to check out the Bass Pro Shops Cruise Night for a few years now. And for whatever reason, I was always kind of skeptical about it. I mean, Come on it's just a weekly Cruise night… How big could it be? I'm here to tell you: "It's Big Folks."
This Event is held in front of the Bass Pro Shops at Patriot Place (Gillette stadium parking lots and home of the New England Patriots.) and this event-far exceeded my expectations. I knew it was going to be big… But this was huge!
Even my Family Was like: "WOW!"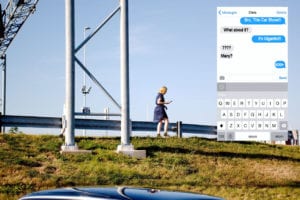 Myself, my wife and my two youngest daughters motored down to Normandy Farms Campground. (By the way, the campground is awesome!) For the trip down, my Wife drove the Vette while I drove the Truck with our trailer hitched up. We spent the week leading up to Thursday night and I decided I would head up a little early. Boy was that a good idea.
when I showed up just after 3, there was already well over 200+ cars there. By the time my wife and daughters showed up at 5 PM, the place was Packed… My daughter's mouth was dragging on the ground and she texted our Son who had to work and told him about it.
Gimme Five! Factory 5 that is…
there was an opportunity to meet some of the ladies and gentlemen from Factory 5 who were all on hand displaying not only a few of their builds but had a special area for their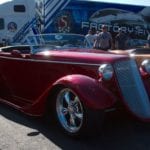 customers to display their vehicles. You've never heard of factory 5? That's shocking because they only build probably the best Kit Cars to ever be on the market. The story I hear is that they originally started in 1995 building kits of the Shelby Cobras with 5.0-liter Ford engines. (Hence, Factory 5)
Since then, they have evolved with some stunning kits that many regard as the best on the market. They are a New England based company in Wareham MA and I am told they conduct tours of their factory. If you are thinking about a kit car, you should definitely give these folks a gander at their website and maybe even pay them a visit. A friend of mine is currently building a 33 Hot Rod from them. Thus far he has been very happy with the components fit and finish.
Ladies and Gentlemen Meet Monty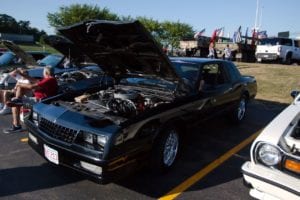 It was pretty Hot on this summer night and Just before my wife and kids arrived I was resting under my little easy up in the shade with a cold soda. An early 80's Monte Carlo SS was being driven by an absolutely stunning woman who I mistakenly thought was possibly driving for her boyfriend. This thing definitely did not sound stock and it definitely sounded fast.
She got out of her car with as big as a grin as I had when I got out of my car. an aura that said she was super friendly and later I saw her talking to other "Monty" owners. When I went back to my car to meet up with my wife and kids, I introduced myself. After I told her my name she then she told me hers. Folks, the look I gave her after she said her name? It sure made her laugh and thus she said: "Just call me Boz." I can't even replicate the name she said but it sounded beautiful.
And then she saw Monty. Errr I mean a Monte Carlo
She then passionately told me the story of how she was temporarily transplanted to Portland Oregon as a child and saw for the very first time a Monte Carlo SS. It was love at first sight and there and then she vowed she would someday get one of her own.
While she was pregnant with her now 16-year-old son, she finally was able to buy one. She is lovingly, slowly, building this machine the way she wants it to be built. Is it perfect? maybe not to your eye, and even she admits to some of its flaws. But she genuinely loves this car and she is trying very hard to do it right. You really learn to respect that with some folks and you could just tell, she is just good people.
One of the biggest nights of the season
As it started to wind down, I realized my legs and feet were hurting after all the walking and just being overwhelmed by the sheer volume of the constant stream of antique, classic, specialty, exotic, and you name any other type of car, coming and going at this event. It had to be over 600+ cars and the DJ announced at one point that it was indeed one of their biggest nights.
I'm definitely gonna hit this one again and you should hit this place up as well. Check out just some of the machines we saw on display below