Cruising Downtown Manchester 2018 – WOW
WOW – Yeah I said it Wow… There were a lot of cars and lots of fun to be had at this years Cruising Downtown Manchester!
Early Morning
Like last year I arrived early. And yet, quite a few folks beat me there. But that was ok because after I finished registering my car, my good friend Jay and I walked down to watch what seemed to be a non-stop flow of Hot Rods, Race Cars, Classic Cars, Old Cars, Trucks, Motorcycles, and you name it – it probably came in.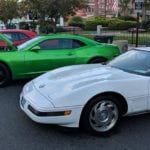 And once on the street, More cars arrived… Last Year there was just over a thousand cars and I never did hear the final number. But I dare say that it seemed as if there were even more spectators this year than last year because the walking traffic at one point was almost overwhelming.
The Hulk Not ignored… But my car was… I'm NOT Bitter!
I was parked next to the Hulk. A bright green Camaro with the Hulk on it. It's a double-edged sword parking next to Jon Palmer's Hulk. You get to watch everyone's excitement at looking at the little details of the Hulk hidden all over the car. But then everyone ignores my Car… Ah well… He's got a cool Car though…
Other Hero Cars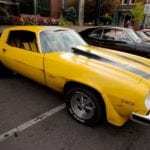 Other Hero cars were in attendance like the Starsky and Hutch Ford Grand Torrino, The General Lee Dodge Charger, and a beautifully replicated Bumble Bee 1977 Chevrolet Camaro complete with rust and bondo and dirt. It was spectacular to look at all the details on this machine that was so lovingly replicated from the Movie Car.
There are multiple pages of Cars that we saw below. One of the reasons it took me so long to get this review up is the sheer amount of pictures I had to go through and realize I still didn't even capture all of the Cars that were in attendance. I was hoping to take more shots of Jon's Hulk machine, as I could not do so originally because of all the people around it. but he ended up leaving before I could get back to my Car at the end of the day. I'll get him next time!
Check out the multiple pages of cars we saw below!