East Coast Camaro Club's Show n' Shine – Another Hot Show for 2018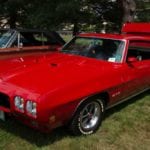 I showed up to the East Coast Camaro Club's Show'n Shine quite a bit late for me. It was blistering Hot already at 80 degrees when I got into the car to make my way to the Merrimack Budweiser plant. As I rolled in I was directed toward the back and I ended up parking right in front of the Nashua Target Showrunner Brian and his GTO. His usual remark of "About time you showed up" was echoed as it always is when I show up to an event he is at or – even to his own show.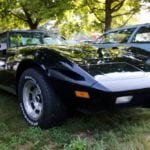 I was instantly greeted by my old friend Jay who was parked on the other side of the grounds with his 1979 Corvette he co-owns with his father. I grabbed a drink, set up my camera and walked the grounds a bit to figure out what was there. And there was a lot.
The Heat was On
I think possibly the heat was a factor in keeping a few people away but 500+ of the Hottest cars in New England were present and accounted for. From Model A's to Studebaker Avanti's and just about any Car you could imagine.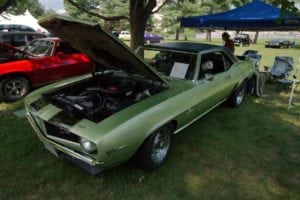 Are you Club Camaro?
America's favorite F-body was not as represented as well as I thought it would be especially at a Club Event hosted by the very Brand you think would be in overabundance. My friend Jay and I have always had a soft spot for all F-bodies. While I am partial to the "Firebird" derivatives, Jay and I for some reason have an affinity for the G3 version of the late 80's. But one must recognize the awesomeness of even a plain ole' G1 that started it all when GM realized they needed something to combat the Mustang
Everybody who is Anybody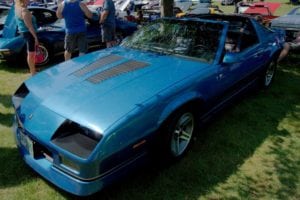 Jay had wondered over to a Blue G3 Iroc-Z Camaro. He called me over while I was Taking a pic of one of the Show winners (A Studebaker Avanti) as Jay had noticed something on the console in the interior of this stunning Camaro. As I took in the lines of this near flawless example of the 80's (That I was so taken with that I only took one picture of it.) Jay pointed to the console and said: "Jamie didn't have that did he?"
Jamie was a mutual friend of ours who owned an 83 z-28 Camaro. I can tell you that I can pretty much take the Stereo out and put in a new one in under 30 minutes because Jamie was one of those guys who had to have the latest head unit from JVC, Kenwood, and/or any other derivative of Stereo head unit you could think of that played loud, big hair, head banging music. Jamie had no clue how to fuss around with wiring so he used to ply me with pizza and mountain dew to get me to do it..
But Jay noticed a clock on the center console that neither of us had ever seen. We started a conversation with the man who was not only the original owner but a person who special ordered all the options on this machine. What he told us was that the Clock was an option he was adamant in getting. And almost did not get. according to him if you ordered the bottom of the barrel stereo system you got the clock because the bottom of the barrel stereo did not have a clock.
we stayed and swapped stories with this gentleman probably a hell of a lot longer than his wife wanted to put up with, as we talked about how back in the 80's everybody who was anybody wanted an Iroc Camaro or a Fox-bodied Mustang. And thus, we became saddened when we realized there were not many examples of said cars in this pristine condition.
A Vista worthy of a Rocket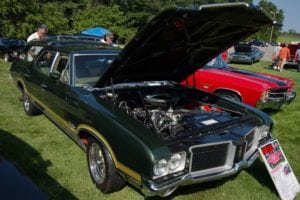 Jay and I sat for a bit with our good friend Al who had brought his Buick Grand National. We swapped the usual lies and told the usual tall tales. I got up to walk by myself for a bit and take some photos.
For some reason that I cannot explain why, I kind of get excited when I see vintage Station Wagons at Car shows. Essentially Station wagons in the late 60's and 70's were the staple of most American families. they were the workhorse of soccer moms that then got replaced by the Caravan or "Mini-Vans" of the 80's and early 90's.
But in front of me was not just any station wagon. but an Oldsmobile Vista Cruiser station wagon. The Vista Cruiser was probably the tallest, and biggest, example of all the station wagons. My Dad and Stepmother had one that had a 3 speed on the tree and my dad used to tell how his only Speeding ticket he ever got was from when he decided to wind out second gear. 87 in a 55mph zone was and still is frowned upon in the 70's. The Vista Cruiser was considered the queen of the wagons (and not just Olds, but all station wagons of that era) with its raised roof and extra sidelights and windows so the back of the wagon was always a sunny place.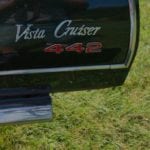 This Vista cruiser at first glance seemed off to me at first, I could not put my finger on it until just before I squeezed off a shot with my Camera I saw the "442" logo. "What?!?!?" The gentlemen who owned it literally was showing the original Brochure for Oldsmobile proving there really was a 442 option for the Vista Cruiser.
The "4-4-2" name (pronounced "Four-four-two") derives from the original car's four-barrel carburetor, four-speed manual transmission, and dual exhausts. It was originally written "4-4-2" (with badging showing hyphens between the numerals) and remained hyphenated throughout Oldsmobile's use of the designation. Beginning in 1965, the 4-4-2s standard transmission was a 3 speed manual along with optional 2-speed automatic and 4-speed manual, but were still badged as "4-4-2″s. By 1968 badging was shortened to simply "442", but Oldsmobile brochures and internal documents continued to use the "4-4-2" model designation.
This Car was awesome!
The Bandit still Rides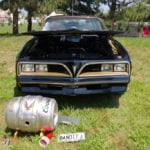 I rejoined Jay and we strolled to one of the Back areas. Amongst a bunch of o other classics was a row of my favorite F-body. The Pontiac Trans Am.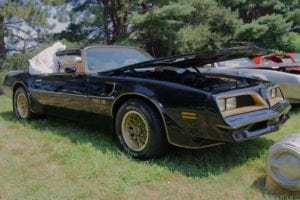 I was tickled to see a beautiful black Trans Am that was staged with props. Props making you remember the movie that made the Black Trans AM famous: "Smokey and the Bandit" I cannot imagine a Car enthusiast who has not seen this movie. And here in front of me was a Car resplendent in that Honor
Purists may argue that this machine had the wrong interior but: I don't care! Just look at it! A barrel of Coors in front of it and no "That ain't no seat cover" that's a wedding dress making you wonder as Cleadus wondered: "What's she wearin' now?"
A great Show
The East Coast Camaro Club Show n' Shine always has a great selection of Cars and this year was no different check out just a fraction of what I saw below.