Target Cruise was Filled with Cars!
This past Friday the 31st of May was my first visit to the Target Cruise in Nashua NH off of Route 101A for the 2019 season. And before I discuss the incredible amount and quality of cars I saw on this night, I would like to take a moment.
A Moment of Condolence To Show Runner Brian
Despite the News of Brian's Brother Ron passing, Brian went with the adage: "The Show Must Go On" and I want to take a moment to express our condolences from the entire NEAS family household to the entire family for their loss. Brian gave me some very kind words when my Father passed last year and Thus I wanted to take a moment to recognize and thank Brian for his continued hard work of keeping the Target Show running through good times and bad. Thanks, Brian!
A Night of Exotics
A few Lamborghinis were represented at the show. A Gallardo Coupe and a white Murcielago convertible owned by the Gentleman who runs the "Car Guys New England" YouTube Channel and facebook feed. Both machines seem to run on pure zeal and sex appeal. Parked next to the white Lamborghini was what looked like a Ferrari F430 Spyder. I could be wrong though.
The Karmann Ghia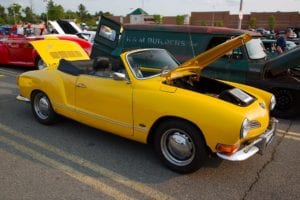 I met a really nice guy who owns a beautiful yellow Volkswagon Karmann Ghia. The Volkswagen Karmann Ghia is a sports car marketed from 1955–1974 and The Convertibles were initially not released until 1957 I think. Internally designated the Type 14, the Karmann Ghia combined the chassis and mechanicals of the Volkswagon Beetle with styling by Italy's Carrozzeria Ghia. The bodywork was hand worked by German coachbuilding house, Karmann.
I dunno what it is about these things that whenever I see them I just can't help but smile. I think it is quite possibly one of the most underrated automobile designs of that era. Long noted for its exterior styling, the Karmann Ghia was designed with input from numerous individuals at Carrozzeria Ghia and was strongly influenced by Virgil Exner's work, though all of its designers passed without a definitive individual styling attribution.
Rude Words: Wankel Rotary Engine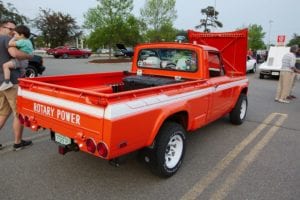 While Monty Python dubbed those 3 words as rude, Mazda in the early '70s was selling them like hotcakes to us oil starved Americans. Later in the evening, this rare Mazda Rotary Pickup showed up. and received quite a bit of attention. It was an audacious vehicle at the time in 1975; now it seems almost absurd.
The story of the Rotary Pick-up is that it arrived in 1974, just in time for the big energy crisis. But it was not the Econo/energy-mizer that was expected as the observed fuel economy was a mere 16.5 mpg. Thus, that put the kibosh on Mazda's optimistic production plans, and left-over '74s were given an additional VIN code to be sold as '75s. A total of only 15,000 were sold in total over its four years thus making this kind of a rare truck indeed.
A great night as usual
Every single time I go to Target I see something I have never seen before… Sure there are some regulars, but then something new comes in and I'm always amazed and fearful of missing this event. Because: "You never know what you'll see at the Target Cruise."
Check out the other amazing vehicles we saw below: