Opening Day at #NEAS Home Stomping Ground
For those of you unaware My Dad has been Rather ill of late. Thus, I have been afraid to travel too far. SO – coincidentally, quite a few Shows happening right in my own home stomping grounds have been opening up this week. Last night I got to check out a few of the familiar and some not so familiar machines at Cruisin' Milford Show at Grill 603 and Sal's Pizza.
Mustang Show?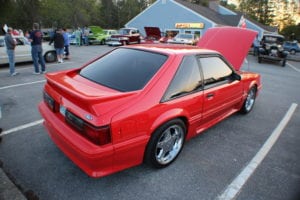 I did not get the Memo because apparently it was Mustang Night. Well, that's what it seemed like anyway
Last year I was lamenting that It seemed as if all the Fox-Bodied Mustangs were all gone. But at Grill 603 last night there seemed to be no shortage of them and many other generations as well. An absolutely stunning example was a red hard topped Mustang GT. All there and straight seemingly unmolested and ready to leap away from all the competition.
For my generation this is the Iconic Mustang we all lusted after in our hearts. Even if you're not a ford fan, you cannot deny the absolute pure Adrenalin fueling styling of this machine. All that was missing was the Girl with too much "hair net," in her coiffed up hair, with a skirt too short for her to sit down in. Yeah Sometimes I miss the 80's.
There were other cars too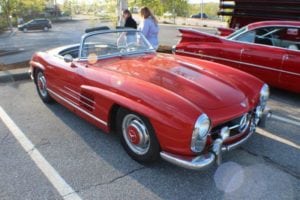 From a Fire Engine and a bunch of other machines like a Model A, a few Corvettes, a few Mopars. There seemed as if there was a least one car for everyone's taste in my opinion.
One machine that just – well, for whatever reason, just screamed at me, was a beautiful Mercedes 300 SL. A derivative of this car was raced in the Grand Prix with dual Carburetors mounted to a 3 liter inline 6. However when it was introduced to the states in 1954 it came with one of the first ever direct fuel injection systems that resulted in a production car that was legendary fast in it's day with 200+ Hp with some models approaching the 160 MPH speeds.
I'm not sure the exact year of this particular example but she is beautiful nonetheless. But check out the rest of the machines I saw last night below.