We Attended the 2018 Castle Car Show!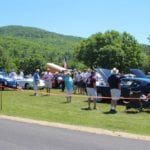 It was my youngest Daughter's Birthday. Thus, with our original intentions of going to a water park while we stayed for a mini vacation up north, we found temperatures in Lincoln New Hampshire to be below 55 degrees. Too cold for a water park adventure. Hence, we decided to take an hour drive south and hit the "Castle Car Show" at the historic "Castle in the Clouds" in Moultonborough, New Hampshire.
The venue is spectacular! with the lower temps, the weather became perfection. Crystal blue skies, low humidity, and bright sunshine is a perfect combination for folks to be motivated to go to a Car Show. And go they did. My Daughter was a bit overwhelmed by all the Cars. So While I looked, she dragged Mom off to the nearby ponds and sit in the shade. But before that happened look at what we saw!
"Metropolitan" flair in the "Country" just seemed "Right?"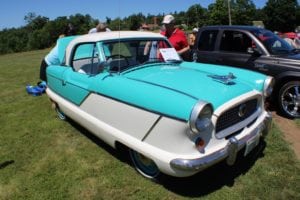 Or was it " right-hand drive? Wait – what? As I was just looking around in the very first row with my jaw dropping at an F-body Trans Am, and a Camaro, my wife said "Hey! Get a handle on your A.D.D. and come check out this car!" As I caught up to her I happened upon this cute as a button little 1960 Nash Metropolitan. That was made even rarer because it was made to be shipped to Europe as a "Right Hand Drive Car." Everything on it was perfection and the only thing better than a really cool little car? is meeting it's 2 Cool Owner's, Mr. and Mrs. Blume.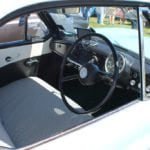 Mr. Blume Bought the Metropolitan for his wife Lynn as an anniversary present and let me tell you, She is the perfect car show attendee who is showing a car. She must have subconsciously read my article on "Showing a Car" at a car show and specifically took to heart, my rule about "Engaging" those who are looking at your Car. Lynn was just so cool to watch as she showed everyone all the little features of the car and let anyone who wanted too, to just sit in the car.
Both of the Blumes were so very nice and were the epitome of the reasons why I love car shows so much and why I love meeting people at them.
A "Squire" in the "Country?"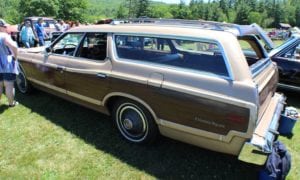 Yeah, I sometimes focus a bit on Cars that nobody else would give a second glance at. But those are the Cars that just make car shows even better. And the "Castle Car Show" delivered quite a few for me to look at.
For instance: If I told you I saw a mid 70's Country Squire Station wagon, you might be like "so what?" SO what?!?! The Ford Country Squire is one of the longest-running namesakes in Ford's history! And it was sold only as part of their full-size product range, the Country Squire was marketed as the premium station wagon of the Ford division,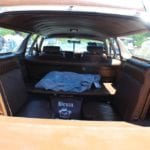 distinguished by its wood-grain body trim. And as of the 2017 model year, the Country Squire remains the third-longest used car nameplate by Ford in North America (41 years), behind only the Thunderbird (46 years) and Mustang (53 years, in production).
This became a "Teaching Moment" as I got to show my 8-year-old daughter how we "rolled" in the 70's as kids. No seatbelts! Nay Nay Nay!! we "rolled" around like bowling balls in the back and if we were lucky our parents might have pulled up the 3rd-row seats in the way back.
This thing was all original and everything worked right down to its 8-track tape player and the flip up headlight covers, and even the barn door or tailgate dual function back hatch! As I walked by it again I heard the owner start it up and show how smooth the original 460 ci motor ran! This thing is awesome! Oh and Actually really huge too!
"Class" or "Klasse" from the Country of Germany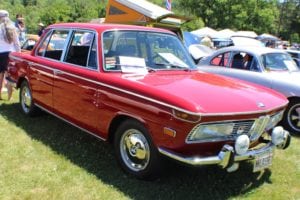 As said before, I look at other stuff people kind of just walk by. And it was impossible for me to just "walk by" this absolutely Stunning Red 4 door BMW. I mean look at it. It's beautiful BMW engineering that has styling cues still used on all the current 2 and 4 door BMW's today.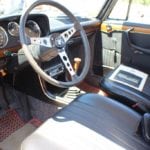 This particular "Ultimate Driving Machine" was just that before BMW even took on that slogan. Heralded as the BMW New Class (German: Neue Klasse) and it was a line of sedans and coupes produced by German automaker BMW between 1962 and 1977. These models ensured BMW's solvency after the company's financial crisis of the 1950s and established the identity of BMW automobiles as sports sedans.
This machine is one of the 2000 series and has the infamous 1990cc motor with a downdraft Solex carburetor. The New Class coupes are credited as introducing the "Hofmeister kink," which has been used on most BMW cars ever since. The "Hofmeister kink" is an automotive design feature seen on modern BMWs and automobiles by other manufacturers. The feature consists of a low forward bend at the C-pillar (or D-pillar in the case of touring vehicles or SUVs.) It is named for Wilhelm Hofmeister, who was the BMW design chief from 1955-1970.
Country Mountains And a Huge Estate!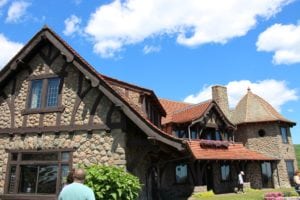 After we looked at all the Cars we went over an toured an estate originally built by Tom and Olive Plant. The mountaintop estate, called Lucknow, was built in 1913-1914 high in the Ossipee Mountain Range. It became known as "Castle in the Clouds" since its opening to the public in 1959, the house is an unusual example of Arts and Crafts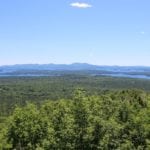 architecture in New England, expressing that aesthetic movement's philosophy of living in harmony with nature. That has absolutely spectacular and amazing views of the entirety of Lake Winnipesaukee.
It featured many modern amenities that were not even introduced to the town it was built in like: needle showers, it's own Hydroelectric plant, and Ammonia based refrigeration, and even Central Vacuum System.
It is said that Mr. Plant's wife Olive enjoyed motoring in their Car by herself to monitor the gardens and working farm on the estate. That probably does not seem like a big deal to you now, but back then remember, women didn't have very many rights at all back then.
But all in all, it was a terrific show that had a car for everyone to see and love.
Check out all the Cars we saw: