Silver City Cruise Night!
My Corvette is feeling a little under the weather of late and hence, I decided to Figure out a way to get my Civic at a show. (Not that it is remotely even show worthy.) Allen Haris of AggresiveDesign.net has been promoting a show held at the Galleria Mall in Taunton Massachusetts. I should confess to you all at this point that Allen and I had never met until last night, but he and I have been corresponding back and forth quite a bit and he has been giving me a lot of valuable advice as well as some much appreciated by me, support.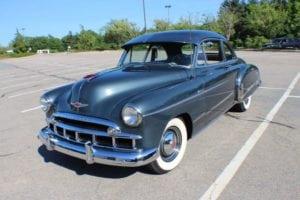 Being it was a school night, and anticipating Rush hour traffic from both north and south of Boston, I decided to try and get rolling a bit early. Once there… I was very Early. Thus I went inside the mall walked around and then had a bite to eat as I knew I would be there for a while.
New Location at the same Mall
The Cars are setting up now in the lower lot in front of the old Best Buy and in front of the Main Entrance at the Food Court. Which is nice. However, It's kind of a bit hard to see and Allen had concerns that folks may not have seen and/or processed the announcement of the change and may have seen nobody at the old location and moved along.
The Show started off slow. But then some very interesting machines began to trickle in. I get the sense that Allen definitely wants to attract all the scenes. From Tuner to Hot Rods and Classics. Tonight there was a heavy presence of Tuners. But That did not detract from a beautiful Chevy Deluxe Coupe that showed up.
Did I mention I love Civics?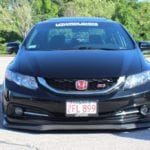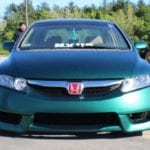 More Vehicles began to show up. I have soft spot for Civics. There was a green 8th Gen Civic and a very stunning Black 9th Gen Civic that was lowered and stanced perfectly. I got lost looking at these 2 beauties.
Did Someone say LS powered?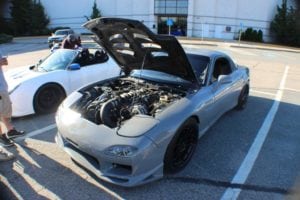 As I was walking around I heard this mighty rumble occur… And 3rd Generation Mazda RX-7 pulled in… It was quite obvious it did not have it's stock 1.3-liter twin turbo still installed. Nope, but if your gonna upgrade a 3rd Gen Rx-7 go big or go home and make sure to do a Chevy LS motor swap and be sure to include a big turbo as well. This car was done very clean and the Motor looked like it came from the factory with the exception of the fact that the turbo was wide open. But that kind of added to the cool factor.
The next highlight for me occurred a bit late in the evening. As I was Talking to Allen my breath caught up in my throat. I'm sure Allen was wondering what the hell was wrong with me as I looked all dreamy eyed at this little red car that came into the parking lot. A gorgeous little Red BMW 2002 rolled in complete with a roof rack and dual fog lights on the front. (My Dad had this exact set up for camping.)
Dude! It's a BMW 2002!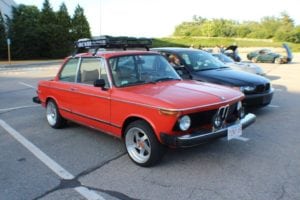 Allen questioned what series it was and I was like "Dude! It's a 2002!!" this is the Car that made BMW the car it is today!!!" and it really is… Well, Okay, if you know anything about BMW's (And I like to think I do.) one could argue that it was, in fact, the In 1966 BMW introduced the 1600-2. 1600 was the Engine size designation and the 2 was for the number of doors and it was later shortened to the 1602 designation.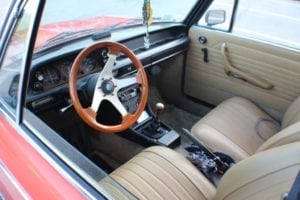 But here is where it got interesting. Americans loved the little BMW. And BMW dealers were asking for sportier versions of the little coupe. By a strange bit of coincidence, Helmut Werner Bönsch, BMW's director of product planning, and Alex von Falkenhausen, designer of the M10 1600cc engine, each had a two-liter engine installed in a 1600-2 for their respective personal use. When they realized they had both made the same modification to their own cars, they prepared a joint proposal to BMW's board to manufacture a two-liter version of the 1600-2 that would later become the venerable BMW 2002.
I did not get to speak with the Dude who rolled in with this beastie. But if you're are reading this… I love your car!
You Should go to this Show every Second Tuesday of the Summer!
I had a great time and I hope this show grows to fruition and vision Allen has for it. If you are in the Taunton area check it out and tell all your friends. Mingle with the Tuner guys and listen to them! I overheard conversations of technical know how that blew my mind. They really need to be shown some apreciation and respect for the amazing things they are doing to their cars. Kudos to all and check out what I saw below: