Car Show Car of the Week #5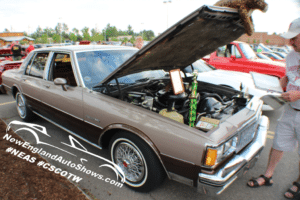 This Car Show Car of the Week is by no means a car you might expect to see as a Featured Car on NEAS. If I'm honest, if in 1984 or 85 you had told me somebody would have a "passion" for this particular car I would have scoffed at the idea. But Ed Gangwisch formerly of Florida now of Boston has a passion for his 1984 Pontiac Parisienne, and I actually kind of understand it.
Ed absolutely loves this car.. He has a book with everything ever written about the car and he knows his car from top to bottom. It's Showroom mint and original. The 4 speed overdrive transmission is powered by the original 305 ci motor and while she may not be his daily driver anymore, he isn't afraid to drive her because he drove this Parisienne all the way up from Florida and the odometer is showing 250k miles but yet looks as if she only has 2.5k miles
Pontiac Killed their B body but not in Canada

In 1977, GM had downsized its full-sized lineup. Pontiac continued with the Catalina and Bonneville that had been around since 1973, but the cars failed to manage the sales volume of their divisional siblings and were dropped completely in 1981. However, the Bonneville name was then simply switched to the smaller G-body Pontiac (the cousin of the Chevrolet Malibu, Oldsmobile Cutlass, and Buick Regal) for 1982. Previously, those cars had been sold as the LeMans, but sales were poor and GM decided to swap nameplates on the grounds that Bonneville carried higher name recognition among customers.
Even though the re-sized Bonneville was also sold in Canada, the full-size Parisienne continued for 1982, although its distinct Pontiac front- and rear-end treatments and interiors were largely replaced with Chevrolet components (described in detail below). At the request of US Pontiac dealerships who still wanted a full-size rear wheel drive car to replace the lost U.S. market share and gain back traditional Pontiac customers who longed for a large rear wheel drive car, the Parisienne was imported from Oshawa, Ontario, Canada and sold in the United States beginning in the 1983 model year, retaining the model name "Parisienne" and specs from the Canadian original. Externally, it was a re-badged Chevrolet Impala (1983-84 models (and 1982 in Canada) had the Impala rear taillight panel fitted with Pontiac-spec taillight lenses, whereas the nose was borrowed from the Chevrolet Caprice fitted with a Pontiac grille). The 1985 and 1986 models resumed use of the rear-end styling from the 1980 to 1981 Bonneville.
Two Parisienne ranges were sold: a base model (similar to the former Catalina and the then-current Oldsmobile Delta 88 Royale) in four-door sedan and Safari station wagon form, and a more-luxurious Brougham four-door sedan (with velour upholstery that featured loose-pillow fitted seats). The two-door version of the 1977-81 B-bodies did not return to the US market, although it persisted in Canada through 1983.
And in 1983 Ed was one of those Pontiac Customers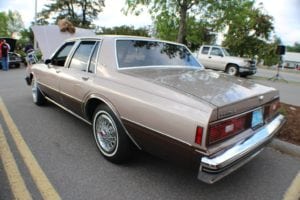 Now, I know what you are saying "Joel, it's a glorified Impala B bodied car with Pontiac emblems on it!"
Yeah, So…. Look at it!?!? Ed's machine is fully equipped with the original and perfect looking velour seats that he only had to have one little portion of the driver seat repaired and you would not know it until he tells you it happened. It has power windows, power locks, and AC that probably still blows ice cold.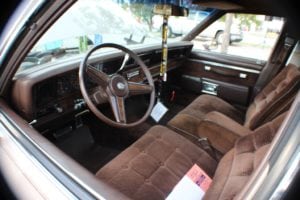 When it pulled in next to me I originally did not give it much of a glance except that I likened it to my very first car that was a B bodies Impala. But then I looked again. and Then Ed opened the trunk that still has the original mats and batting on the sides. The doors gave that satisfying big car clunk when they were shut.
You could get in this car and have 5 of your friends all seated comfortably in this thing. And event though it's only a 305 I'll wager it still pushes this car along with no issues and by the way, let's talk about the fact that it's done so for over 250k miles! So I get what Ed is on about with this car.
What I love about this car is its luxurious simplicity. It's a no-nonsense car that is luxurious but has simple flowing lines that while box like and angular just exude and make you know that this is not just a B-bodied Pontiac. This – is a Pontiac Parisienne! And it's awesome! AND – it's our Car Show Car of the Week!