Gate City Corvette Club's 38th Annual Spring Fling was NOT Rained Out!
Since 1980 Gate City Corvette Club has been meeting for a "Spring Fling" that is heralded as the First Corvette "Judged Event" of the Season. My C4 and I have never been judged at all. Hence, I watched the weather and the the event's facebook page closely as the weather was looking very sketchy for the day.
The weather outside was frightful
AS I woke up at 6:30 in the morning I got dressed in a Corvette T-shirt and shorts went outside and said "Yeah this is good!" and went inside to pack a cooler and my camera Miscellaneous other stuff. I looked out the window and it had rained very quickly. and my Vette parked outside was all wet… (Sigh.)
I quickly got some drying cloths and did a quick dry of the car and realized after it had rained the temperature had dropped drastically. Hence I opted to put my Jeans on, and get a light jacket. I packed an umbrella as well thinking it's a guarantee it wont rain if I force myself to carry an umbrella right? Hey, it didn't rain at all during the event so try and argue with me?
Getting ready to be Judged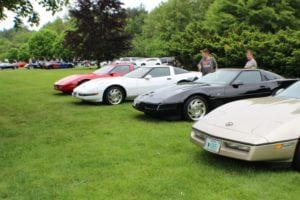 I was greeted pleasantly and welcomed in and given a brief overview and directed where to park. It's often joked that the C4 does not get much respect and no offence to the coordinators but it seemed like I was parked at the furthest Corner. Don't worry I thought it was amusing. But I parked next to a 1993 black 40th anniversary badged C4 who had never been judged either. On the other side of him was a late 80's C4 Roadster.
As I have never been judged before I decided to quickly look around and see what others were doing in prep work. Yeah I soon discovered my quick dry off was not enough. I got out my quick detailer and thanked myself for packing an extra amount of cloth rags. Because suddenly I'm watching folks wipe down their wheel wells, and a whole slew of other areas that at most I usually just rinse down.
At High Noon we were told Rags down… Judging would commence…
Being looked at with "Judgy Eyes"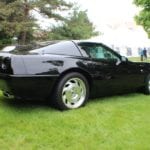 Judging for my Class was pretty quick to occur as there was only 3 cars in my class I knew the Red C4 who arrived after me was probably gonna be the winner with his fresh paint job and chrome Salad Shooter wheels. The 93 on my other side had me beet in his much nicer looking Saw blades but I thought my front end was the winner of all three. But I'm biased right?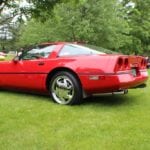 When we went to find out the results I heard there was only a second and first prize so I figured I would walk away with at the very lease, some experience and areas and ideas for improvement. The owner of the 93 C4 and I were joking that we should Hold hands like they do in the Miss America Pageant when they announced the Runner up from our Class was none other than your's truly. I sat there like an idiot thinking it was just a formality when they say "UH -hey, Uhm, go get your trophy?"
They Like Me! They Really Like Me!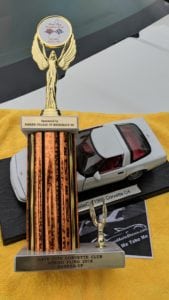 So – There I am, kinda stunned, Suddenly I get this huge Trophy shoved in my hands while I have what was probably the stupidest looking grin on my face. Sure, because of everyone being afraid of the Rain maybe not a lot of machines showed up but still…. It felt pretty good… You know? My Car is still no show winner but based on the judges faces I felt as if they liked what they saw, so – I feel good.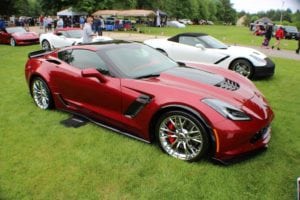 The rest of the Show certainly had a showing of newer model Corvettes. The Big Show winner was a 2015 Z06 owned by David Bright. His Car was immaculate and looked as if it had just rolled of the line at Bowling Green, shoved in a time machine and plopped in the middle of the field. The Kid favorite was a C7 done up in an American flag inspired vinyl wrap.
A great day of Corvettes and new Friends!
At the end of the event all the organizers stood on the main entrance and waved us all goodbye with very friendly "thank yous" for all of us attending. My 1995 Arctic white Base C4 with her vanity plate of "BASEFUN" got a few nods on the way out and I had safely strapped her "Runner up" trophy into the passenger seat feeling as if I was on "Cloud 9" ready to take on the world with my smile.
Check out the rest of the cars below: