We Attended the 44th Annual World of Wheels!
As a kid growing up in the late 70's and early 80's the premier Custom Car show in Boston was and still is "World of Wheels." I still remember watching the commercials on Channel 56 with the awesome guitar riff and dudes singing out "Wooooooooooorrrrllldddd Oooooooooooofff WHEELS!!!"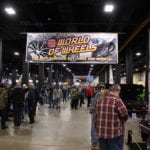 I would beg my Mom or Dad to get me there and my Dad never did… But I did go with a friend and his parents and I met Burt Ward form Batman and saw the Batmobile, and many other Cars that I often wonder? What ever happened to those Cars? It's from World of wheels that I discovered Hot Rods and saw some cars that I had only ever seen in magazines and they became real and alive in front of me. Entering World of wheels some 30 years later? It's a different scene. And that's not a bad thing actually.
And Now: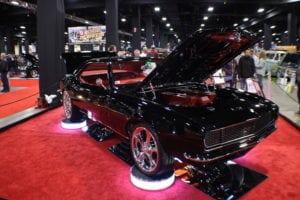 I saw right away our last Car Show Car of the Week that was done up by Dave Kindig from the Show "Bitchin Rides." It was disappointing to not get as "Up close and personal" with it as I did during the Camaro Club's Show-n-Shine in Merrimack NH last year. But it looked good none the less.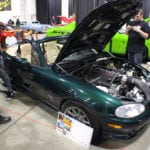 The line to meet Tony Stewart was huge. So I kind of skipped that line and mozied up the next isle checked out a Corvette Powered Mazda Miata… Because – Well, why wouldn't you put an LS motor in a Mazda Miata, Right? The Car actually looked really cool and it even looked as if it had Polo Green Corvette paint with tan interior which is one of my favorite Corvette combinations by the way.
I handed the folks who made this Car from South Shore Customs, in Plymouth Mass, my Card because I had to respect the work done here. And they had a crowd looking at many of the details on this car. The Crowd was such that I really did not get the best Pictures of the Car but I did at least capture how perfectly the motor looked at home in the car.
The Clubs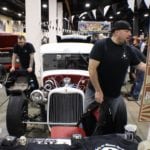 I was pretty young the last time I went to this show (I was 9 maybe 10) and I do not remember the showing and or representations of clubs. Creeps was represented and selling their merchandise and had a very heavy presence in their clubs member cars
Next to them was a contingent from Kingpins. While not the smoothest paint job I have ever seen on late 50's Caddy, but – dam what a color and I think it was a patted flake that made you get lost in its colors. I really liked the color choice and the Black flames were beautiful I have a soft spot for ole' caddies and this thing just made me want one all over again.

Cars, Cars, and More Cars
At the front was a 1965 Factory Five Mk4 Cobra that made my pants feel funny. This Candy apple Red… I mean Wow talk about getting lost in a color? I struggled to take my eyes off of this thing. It's just a stunning thing of beauty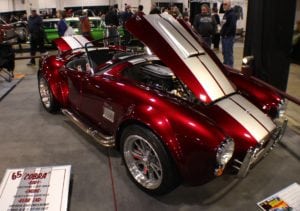 Later I came up to a stunning black 60's Corvette Resto Mod done by the Bowtie Shop in Billerica MA That was Killer. If they had told me I was forced to bring this car home (I Wish!) I would never let it leave my site. It was one of the few cars I could walk all the way around and boy was that nice. An LS 7 motor was fitted under the hood perfectly as well as a nicely moderned up interior. The Black was so deep and the Red stripe just Popped right out you.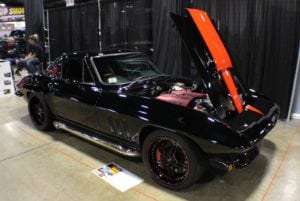 My Friend Jay was with me and my Family, and back in the day he had a killer Chevy Malibu that he had stuffed a race readied 327 and manual transmission that broke the rubber in every gear. SO the both of us were drawn to the Widow Maker. A 1981 Chevy Malibu with suicide doors and a boat load of mods culminating into a black beauty of a car that does 700 HP. Wow!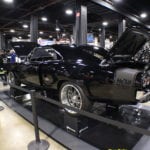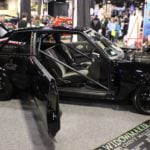 Sitting Up high was a 1968 Charger with a 2017 392 Hemi and Hellcat parts shoved into the interior. While I do not normally get very excited about Mopar products this was definitely a car to look at and the craftsmanship on this Car was stunningly well done.
Let's Talk Patina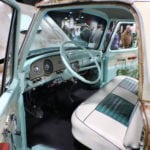 Bramz Rods must have been listening in on a conversation my friend Jay and I had. Don't get us wrong we can appreciate original patina on a car, but when it looks so staged, and then a crap-ton of Clear is thrown on top and made uber shiny it' Just… It's just doesn't work for me… But the 1961 Ford F100 Long bed done up by Bramz Rodz? They seem to have done it right. A coat of clear was put on but not a ton and done just enough to seal up the real natural patina on this truck. And then do the interior up so nice in soft blues. What a great truck!
Still More Cars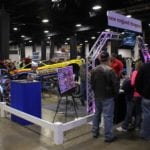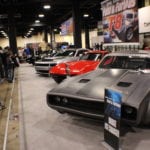 Mustangs, Chevelles, Corvettes, you name it and it was probably here. New England Dragway was displaying dome of the infamous machines that have appeared there. And then in the back was the Movie cars from the Fast and the Furious F8. Dom's Ice Charger was prominently featured along with some of the other Cars.
Don't get me wrong I love "Hero Cars" form the movies, But sometimes when you get up close to them, they like most "Fictional Heros" can be a bit of a let down. They look cool and all, But they sometimes lack just a bit. Meh.
Retro Mod? and Where's Huggy Bear?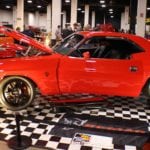 Camaro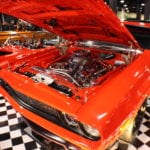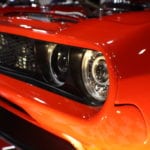 s, Mavericks, A new charger retrofitted with old components? Yup…. Like I said I'm not a Hemi/Mopar guy… But Dam… A Charger RT done up in Orange with a factory freshed older 1973 motor jammed in? This machine was done by AK Rods & Customs in Londonderry NH. And I seriously do not know why? But is it just me? But is the headlight treatment/design on the front of a newer Charger the sexiest thing ever? Hmmmmm Maybe I'm becoming a Mopar guy?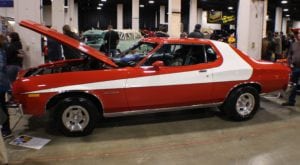 A 1976? Ford Torino "Starsky and Hutch" themed car was all done up with accessories complete with lights, Adidas sneakers, and 1970's attitude! It looked ready to go after the bad guys hot off a tip from ole' Huggy Bear Brown Himself!.
My Inner 10-year-old
I cannot tell you why, but when I was like 10 years old I remember talking to my friends about dream cars. You know, you're sittin' out with your friends talking about cars and Exotic cars become the focus. And my Buddy Fred said the Lamborghini was his favorite car with Gull wing doors. My Best Fried Tim who I still am in contact with, proclaimed the Ferrari as the coolest.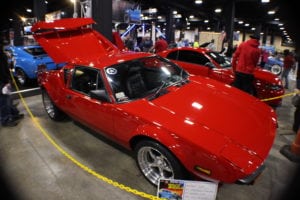 Jammed in my Pocket I just happened to have a Hot Wheels die cast version of a 1972 De Tomaso Pantera. For those of you youngsters who do not know, this car it was a mid-engined sports car made in Argentina. The Car was designed in Italy by the Ghia design firm by an American Born designer named Tom Tjarda. Back in the Day this Car could do 0-60 in 5.5 seconds.
And here was my inner 10 year-old's dream car in the exact color I wanted. If there were not so many witnesses I would have been arrested for grand theft auto. One of My bucket list items is to drive one someday…
Tuners are Cool
My Friend Jay and I with my 2 daughters, rounded the corner and we came upon a contingent of Tuner Cars. These cars get a bad rep and I still cannot figure out why. In fact I did an article about it last year. It's a younger group mostly doing what all us old geezers used to do. Soup up our cars and have fun. They are not doing anything that we didn't do and thus I love them..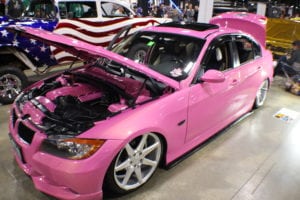 I also Respect them and here's why: They have to master and fiddle with modern crap we never even dreamed of fighting with! MAF sensors, Oxygen Sensors, Complex computers and Chips that control every aspect of the car has to be dealt with somehow so it does not throw out a trouble light that makes it so they would not pass an emissions inspection. Thus they know more about cars than they are leading on to. And I respect that wholeheartedly.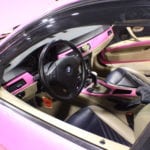 My 2 Daughters and I walked up to a 2008 BMW 328xi done in Hot Pink with decals from the Boston Low Riders Group. And I mean it was Hot! Accented with High Heels and a Purse in the trunk that hides the Air tank as it is lowered and bagged and what I love! Is the wheels are and tires look right. The one look Tuners and I disagree on is the Stretched Tires look… And this car had nice wheels and real tires and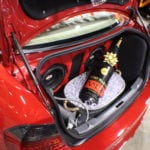 they were and are just awesome looking! My 2 Daughters proclaimed it awesome and that's the coolest part of this car in that it appeals to the Young gals out there and maybe makes them want to become part of our scene!
Part of the same group was another BMW done in similar quality fashion with a Remy Martin Bottle masquerading as an air tank for the bags, and a red metallic paint that was stunning. It is rumored both Cars won awards and they absolutely deserved them! They are so well done!
Parts Anyone?
GM Performance Parts had a display done up with many engines on display with an older C10 Pickup done up. A newer corvette on display, and on the other side was a 100th anniversary Chevy Pickup. I love the retro emblems on this truck. But you could also look at brake mods, Suspension Mods, and any other mods all available from GM.
Still More Cars!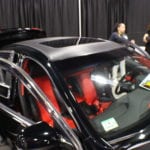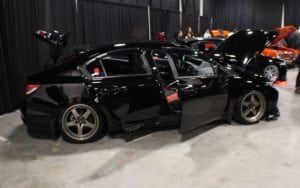 GTOs, Olds 442s, Pick-ups, you name it and like I said before it was pretty much here. A black 9th Gen Civic Si tugged at my strings. I just traded my 8th Gen for a 10th Gen so I'm drawn to the Civics when they are on display. And this one had some touches I had done to my 8th Gen. I had put carbon fiber looks on my roof and this one did the same and looked far better than my car…. Yeah – I was jealous….
What a Blast!
All in all the World of wheels show is a spectacular display of cars. Many of them you may not see at a normal car show. But – that being said, I sometimes wished I could walk up to more of the cars. I don't want to touch them… But I want to be able to see inside some of them… But aside from that it's fantastic to see so many different genres of vehicles under one roof being appreciated by a like-minded yet diverse group of individuals
Check out Our Gallery Pictures Below: