Car Show Car of the Week #3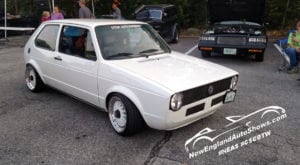 This weeks Car Show Car of the Week is our very first import car. In the late 70's and early 80's the "Gas Crisis" was in full swing. Muscle cars were de-tuned and almost choked to oblivion. A few survived but the foreign car market exploded with small economical vehicles that not only consumed far less gas, but in some instances, were dam fun to drive.
Enter the Volkswagen Mk1. Probably the best definition and trophy winner of the term "Hot Hatch." The Mk1 is the first generation of a front-engine, front wheel drive, water-cooled small family car manufactured and marketed by Volkswagen as the successor to Volkswagen's historic Beetle. The Mk1 was marketed in 3-door and 5-door hatchbacks, two-door convertible, two-door sport model GTI, as well as an open-bed mini-truck (Pickup, Caddy) models, with only one intermediate face-lift in 1980.
Having debuted in May 1974 with styling by Giorgetto Giugiaro's ItalDesign, and a new water-cooled, front-wheel drive technology from VW's newly acquired Auto Unionsubdivision — the Mk1 was marketed globally, as the Golf in Europe, and prominently as the Rabbit in North America, and also the Caribe in Mexico.
The "Hot Hatch" GTI Was Born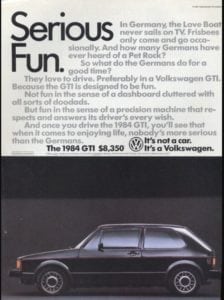 In 1975 a sports-oriented variant of the Volkswagen called: "the Golf GTI" was introduced in March of that year at the Frankfurt Motor Show. The idea behind the car was simple – take a basic-economy car and give it a high-performance package, making it practical and sporty. and make a bunch of commercials of it being driven like a sports car. America did not initially see the GTI until much later, but it was one of the first small cars to adopt mechanical fuel injection. In 2004, Sports Car International declared the Golf Mk1 GTI to be the 3rd best car of the 1980s.
For America in 83/84, The GTI was powered by a 1780 cc four-cylinder engine fed by a Bosch K-Jetronic fuel injection, which helped them develop a respectable 74HP @ 5,100 rpm and 94 lb-ft of torque. Aided with a curb weight of just under 1,800 lb, it allowed the GTI to accelerate 0-60 mph in 10 seconds, and the top speed was 110 mph. Those Numbers might seem unimpressive by today's standards, but back then, this was new ground for these small econo-mobiles.
Rebuilding a GTI Better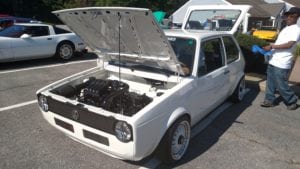 This particular Mk1 was born in the Westmorland PA facility of Volkswagen and sold in 1984 as a GTI. The story goes that Jay Stirling's first car was one of these beauties and when an opportunity came to acquire another one, he decided to do so and to have a little fun with it. The the folks at DTM Motorworks in Milford NH did much of the work.
the venerable 1.8 liter that came in the 1984 model was replaced with a 2 liter ABA engine. The Stock ABA engine is from a Mk3 Golf, so a transplant of this motor is an interesting affair to say the least. But the detail work on the shaved engine bay to make this motor even prettier is, well, jaw dropping. An original ABA put out about 114 HP and I suspect Jay's ABA does "just a little bit more" (wink wink) as there is a Turbo bolted up to his motor.
Jay and his wife Laurena make the car show circuit locally here in NH and many other places in New England. They are 2 of the many nice people I have met at a car shows and the love of their VW's is well known. Laurena has a Cabriolet version that I have yet to see, but she will talk about it with love and I often kid her about her helping Jay to shine this car up after they park at the shows. I have photographed their car many times and I keep looking at it with envy. "Hot Hatches" have that effect on me sometimes.