NH Muscle Cars Granite State Season Opener at Deerfield Fairgrounds
Last Year when I attended the NH Muscle Cars Show at the Deerfield Fairgrounds, I commented that if this was their first attempt at a show at this venue, the next attempt should be phenomenal. It Should be noted that I was in fact correct with that assessment. There were more entrances for smoother entry and parking, more vendors, more food, and of course plenty of cars to look at.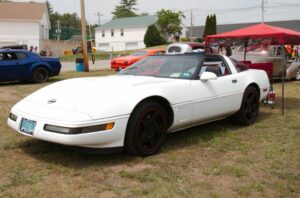 The Ride Up
The weather was a bit on the "iffy" side but I decided to just "send it." I took the Targa Top Off of the Vette and even though the morning started a bit chilly it warmed up fast! And the Corvette Cruised on up to the venue flawlessly. Later in the ride I could not help to have a grin on my face when a came upon a small convoy of Mopar Enthusiasts who decided to follow me as I passed at, Ahem, a rather hi-speed…
Parking Was a Breeze
Everyone pulled up and found more than one Gate open and I chose the first one that ironically had no line at it… I paid my fee received my "goody bag" and was lined up on the field in no time at all. I did quick dust off of the car, cleaned up my wheels and tires, and then got my little red sun shelter set up that I was going to need and enjoy later.
The Venue is Huge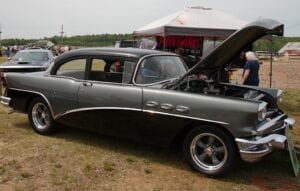 If you have been to the Deerfield Fair you know the venue is gigantic. This event is barely using even a 1/3 of the available area and it is said there were about 1100 cars at one point. (Sadly I did not get a picture of all of them as many left early.) There is plenty of room for growth for this event but honestly, I have concerns that they may be paying a lot for this venue. You cannot just set up a fairground and have a car show, the club has to pay fees and Insurance I would think…
Paintworks Unlimited Buick Special
I'm not really sure what draws me to the Buick Special "B" Platform… It's a quirky originally a "Bottom of the barrel" no-frills car in the late '30s but in the '50s this car just became a recognizable Icon. In 1956 I think hands down the most gorgeous version of the Buick Special came out with its swooping "Sweapspear" chrome on the sides and those Iconic Buick "Ventiports" that were elongated for the 56 models. Originally it came with a 5.3 liter v8. It just has a weird sexiness about it that I'm drawn to for some reason that I cannot explain
It Rained?
So quite a few people started to do a mass exodus at 1:15 while I was waiting in line for my lunch and a cold bottle of water. Thus far, I had only taken pictures of about slightly less than half the venue. Suddenly I started to see a line of cars leaving? I later learned that apparently, it started to rain a few drops… I dunno, I could not tell you because I theorize I was so hot at that point that any water that may have hit me Flash evaporated as it hit my skin…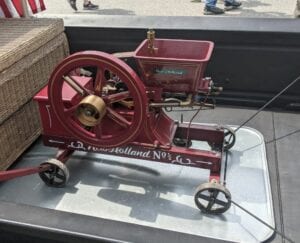 Hit or Miss or Hit 'N' Miss?
The show in my opinion was a hit with Cars and Vendors and Music. But a real "Hit" for me was a"Hit 'n" Miss Engine" that was strapped in the back of a '30s Hot Rod pick-up truck. He was parked on the end of my row and near the end of the show, I walked over to take a closer look at this. I told him that during the Fair when I was a child there was (and still is) a "Hit 'N' Miss engine display that for whatever reason seems "Hypnotic to me." I can watch and listen to these things run for hours. It's a Joke with my family and I said: "I bet if you had that running you would have had a crowd around this truck. I then asked: "Does it Run?"
"Sure it will run all day with the fuel in it" and he easily spun the wheel and that telltale sound started… and then what happened? A group of 10 guys showed up out of nowhere to look and watch it run… What are these you may be asking? A hit-and-miss engine or Hit 'N' Miss is a type of internal combustion engine that is controlled by a governor to only fire at a set speed. They are usually 4-stroke but 2-stroke versions were made. It was conceived in the late 19th century and produced by various companies from the 1890s through approximately the 1940s. The name comes from the speed control on these engines: they fire ("hit") only when operating at or below a set speed, and cycle without firing ("miss") when they exceed their set speed.
A Great Show!
I had a blast met some new friends and saw some great cars too. Check out what we saw in the gallery below