Jun
1
Sat
NH – Goffstown – 6th Annual Rotary Car Show
Jun 1 @ 9:00 am – 2:00 pm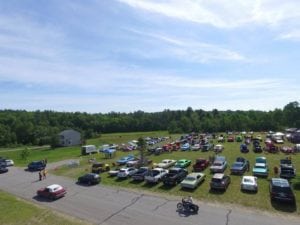 **PRE-REGISTRATION IS NOW AVAILABLE!!**
Pre-Registration is available through PayPal only. All registration fees are non-refundable. Deadline for pre-registration is June 1st, 1:00 p.m. firm:
* Go to our website: http://goffstownrotary.org/
* Scroll down until you see the car show information on the right. There will see a PayPal button.
* Select the type of registration you want and click on the "Buy Now" button.
There will be no registration form to complete – that will still be done on the day of the event. This is very new to us, so we appreciate your patience. It might not be a bad idea to email us after you've submitted your payment: info@goffstownrotary.org
$15 participant registration fee – $35 for 3 cars with same registrant
Goodie Bags for the first 50 registrants
All Classes Invited
Trophies and Participant Voting
All proceeds from the event will go back to the community
There will be no admission charge for the general public!
Parsons Field is located across the street from (the far north end of) Westlawn Cemetery – 2 Parsons Drive, Goffstown in your GPS will get you to there with no problem!
Jun
23
Sun
ME – York – 2nd Annual York Auto Show – Athletic Boosters Fund Raiser

@ York High School
Jun 23 @ 8:00 am – 3:00 pm
This is a benefit for the York Athletic Boosters and all proceeds raised will go toward improving the facilities, equipment, fields, and safety initiatives of York High School sports.
This Auto show will accommodate up to 600 vehicles and will utilize the entire campus at York High School. All classes of cars, trucks, and other vehicles will be able to be on display and compete for awards. A car show of this size on the Seacoast in the town of York should be a great stimulus for all local businesses as we anticipate drawing large crowds from all New England states!
$10 Entry Fee per Show Car (Includes1 Passenger)
$5 General Admission – Kids under 12 FREE
Online Pre-Registration coming soon so stay tuned!
CT – West Hartford – 19th Annual Concorso Ferrari & Friends
Jun 23 @ 10:00 am – 3:00 pm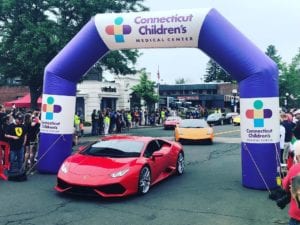 Concorso Ferrari & Friends attracts 10,000 Connecticut Children's supporters and car enthusiasts each year. The highlight of the event is the "Pagani Patient Parade," which is an exhilarating car ride for 40 Connecticut Children's Medical Center patients who are paired with drivers and driven into the heart of downtown West Hartford, where they are greeted by the cheers of thousands of spectators and receive a red-carpet welcome.
Car owners, sponsors and spectators can visit the many unique shops and restaurants on LaSalle Road while viewing the wide array of autos, shopping at one of the many vendors and listening to the music and driver interviews featured throughout the day. A truly enjoyable day for all.
Vintage, Exotic & Modern Models
All Italian makes welcome!
Sep
21
Sat
NH – Newington – GBCC Driven to Make a Difference Charity All Car Show

@ Sig Sauer
Sep 21 @ 9:00 am – 3:00 pm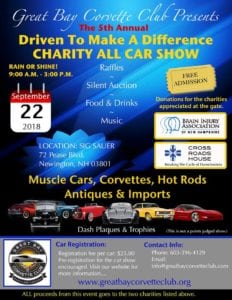 Great Bay Corvette Club GBCC
The 6th Annual
Driven to make a Difference
CHARITY ALL CAR SHOW
Great Bay Corvette Club-G.B.C.C—-a Non Profit Corporation
A club for corvette owners from the Seacoast of N.H., Maine, Mass and everywhere in between!
Registration Fee Per Car: $25.00
Pre-registration is encouraged.
Visit the GBCC website